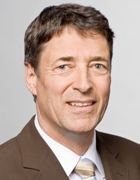 Academic Career and Research Areas
Professor Völkel conducts research into global climate change and (cultivated) landscape formation during notable transition periods in the course of the climate and land use history of the earth system. He analyzes geoarchives (based on geomorphodynamics and soil formation) in Central Europe, Africa, the Arabian Peninsula and high altitude mountainous regions such as the Rocky Mountains and the Alps. These geoarchives serve to validate future environmental scenarios. Other areas of interest include Critical Zone research (TUM-CZO), earth functions and protection, geophysical prospecting and geoarchaeology.

After studying geography, biology, soil science and geology at RFU Bonn (diploma 1985, first state examination 1986), Professor Völkel obtained his doctoral degree from the same university in 1988, where he was also awarded the university's doctoral prize. In 1993 Professor Völkel acquired his postdoctoral teaching qualification (habilitation) from the University of Regensburg and subsequently took up a teaching position at JGU Mainz. Prior to joining TUM in 2007 he was professor of soil science at FSU Jena and the University of Regensburg. Professor Völkel heads the German Research Foundation (DFG) Research Training Group 462 "Palaeo Ecosystem Research", coordinates several research associations (BMBF, StMUV), is a member of the Bavarian Climate Council (StMUV), of the Geomorphology Commission (Bavarian Academy of Sciences) and is chief editor of the Annals of Geomorphology.
Völkel J, Huber J, Leopold M: "Significance of slope sediments layering on physical characteristics and interflow within the Critical Zone – Examples from the Colorado Front Range, USA". Applied Geochemistry. 2011; 26: S. S143- S145.
Abstract
Leopold M, Williams M, Völkel J, Dethier D, Caine TN: "Internal structure of the Green Lake 5 rock glacier, Colorado Front Range, USA". Permafrost and Periglacial Processes. 2011; 22(2): 107-119.
Abstract
Hürkamp K, Raab T, Völkel J: "Two and three-dimensional quantification of lead contamination in alluvial soils of a historic mining area using field portable X-ray fluorescence (FPXRF) analysis". Geomorphology. 2009; 110(1-2): 28-36.
Abstract
Leopold M, Völkel J: "Colluvium: Definition, differentiation, and possible suitability for reconstructing Holocene climate data". Quaternary International. 2007; 162-163: 133-140.
Abstract
Völkel J, Leopold M, Roberts MC: "The radar signatures and age of periglacial slope deposits in the Central European Highlands of Germany". Permafrost and Periglacial Processes. 2001; 12(4): 379-387.
Abstract