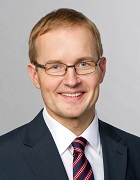 Prof. Dr. Henning Wackerhage
Academic Career and Research Areas
Prof. Wackerhage (*1967) is a Molecular Exercise Physiologist and has published three textbooks in this field. He is specifically interested in the molecular mechanisms by which exercise improves our fitness and health. Focal points are the role of the so-called Hippo proteins in skeletal muscle, muscle aging (sarcopenia), the genetics of muscle mass, muscle fiber distribution and function, the mechanisms by which exercise influences cancer and the association between the proteome, metabolome, athletic performance and health.
Prof. Wackerhage studied and obtained his doctorate at the German Sport University in Cologne. He then became a lecturer in sports physiology at the University of Central Lancashire before moving to the University of Dundee and then as senior lecturer and reader to the University of Aberdeen in Scotland. Since 2016 he is Associate Professor of Sport Biology at the TUM.
Key Publications
Verbrugge SAJ, Schonfelder M, Becker L, Yaghoob Nezhad F, Hrabe de Angelis M, Wackerhage H: "Genes Whose Gain or Loss-Of-Function Increases Skeletal Muscle Mass in Mice: A Systematic Literature Review". Frontiers in Physiology. 2018; 9: 553.
Abstract
Sun C, De Mello V, Mohamed A, Ortuste Quiroga HP, Garcia-Munoz A, Al Bloshi A, Tremblay AM, von Kriegsheim A, Collie-Duguid E, Vargesson N, Matallanas D, Wackerhage H Zammit PS: "Common and Distinctive Functions of the Hippo Effectors Taz and Yap in Skeletal Muscle Stem Cell Function". Stem Cells. 2017; 35(8): 1958-1972.
Abstract
Mohamed A, Sun C, De Mello V, Selfe J, Missiaglia E, Shipley J, Murray GI, Zammit PS, Wackerhage H: "The Hippo effector TAZ (WWTR1) transforms myoblasts and its abundance is associated with reduced survival in embryonal rhabdomyosarcoma". The Journal of Pathology. 2016; 240: 3-14.
Abstract
Tremblay AM, Missiaglia E, Galli GG, Hettmer S, Urcia R, Carrara M, Judson RN, Thway K, Nadal G, Selfe JL et al: "The Hippo Transducer YAP1 Transforms Activated Satellite Cells and Is a Potent Effector of Embryonal Rhabdomyosarcoma Formation". Cancer Cell. 2014; 26(2): 273-287.
Abstract
Judson RN, Tremblay AM, Knopp P, White RB, Urcia R, De Bari C, Zammit PS, Camargo FD, Wackerhage H: "The Hippo pathway member Yap plays a key role in influencing fate decisions in muscle satellite cells". Journal of Cell Science. 2012; 125: 6009-6019.
Abstract