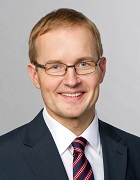 Prof. Dr. Henning Wackerhage
Associate Professor
Exercise Biology
Academic Career and Research Areas
The research area of Henning Wackerhage (b. 1967) is skeletal muscle physiology. He is particularly interested in the adaptations of skeletal muscle to exercise, muscle changes in aging (sarcopenia) and muscle diseases such as muscular dystrophy and muscle cancer (rhabdomyosarcoma). His research group specifically aims to elucidate the regulation and function of the Hippo signal transduction network in skeletal muscle.
Prof. Wackerhage studied and obtained his PhD at the German Sport University in Cologne (DSHS). He then went on to develop the teaching of exercise physiology at the University of Central Lancashire before moving to the University of Dundee and subsequently becoming a senior lecturer and reader at the University of Aberdeen in Scotland, UK. Since 2015, he has been associate professor for exercise biology at TUM.
Key Publications
Wackerhage H: Molecular Exercise Physiology. An Introduction. London and New York: Routledge, 2014.
Abstract
Wackerhage H, Del Re DP, Judson RN, Sudol M, Sadoshima J: "The Hippo signal transduction network in skeletal and cardiac muscle". Science Signaling. 2014; 7(337): re4.
Abstract
Tremblay AM, Missiaglia E, Galli GG, Hettmer S, Urcia R, Carrara M, Judson RN, Thway K, Nadal G, Selfe JL et al: "The Hippo Transducer YAP1 Transforms Activated Satellite Cells and Is a Potent Effector of Embryonal Rhabdomyosarcoma Formation". Cancer Cell. 2014; 26(2): 273-287.
Abstract
Judson RN, Tremblay AM, Knopp P, White RB, Urcia R, De Bari C, Zammit PS, Camargo FD, Wackerhage H: "The Hippo pathway member Yap plays a key role in influencing fate decisions in muscle satellite cells". Journal of Cell Science. 2012; 125: 6009-6019.
Abstract
Watt KI, Judson R, Medlow P, Reid K, Kurth TB, Burniston JG, Ratkevicius A, De Bari C, Wackerhage H: Yap is a novel regulator of C2C12 myogenesis. Biochem Biophys Res Commun. 2010; 393(4): 619-624.
Abstract
print view