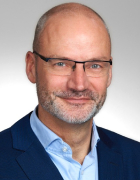 Academic Career and Research Areas
The research of Wilko Weichert (b. 1970) focusses on translational molecular pathology and its use in individualized patient care. Within this general framework the main objective of his work is the identification, validation and clinical implementation of tissue based biomarkers that are able to predict response to radiochemotherapeutic as well as targeted and immuneoncologic treatment modalities in malignant tumors. To this end he uses high throughput molecular analyses (so called –omics) on tissue, performs comparative morphological and molecular mice-men studies, works on diagnostic biomarker assay development and is involved in assay implementation and nationwide as well as worldwide molecular biomarker rollout strategies.
Prof. Weichert studied medicine in Marburg, Würzburg and Berlin. After completing his Residency he was appointed as Assistant Professor (Privatdozent) at the Charité in Berlin. In 2010 he took up a position as Full Professor of Pathology at Ruprecht-Karls University Heidelberg and the National Center for Tumor Diseases. Since 2015 he is holding the Chair for Pathology at TUM. He published over 370 original articles in peer reviewed journals (H-Index: 62). He is a member of the Board of Directors of the German Society of Pathology, an elected Member of the Expert Council on Cancer of the German Research Foundation (DFG) and appointed German Expert Advisor for the European Medical Agency (EMA).