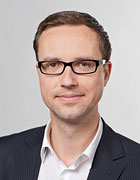 Academic Career and Research Areas
The work of Professor Westmeyer focuses on biological engineering of next-generation molecular sensors and actuators for functional imaging and remote spatiotemporal control of cellular processes with whole organ(ism) coverage. To this end, mammalian cell engineering, nanotechnology, and synthetic biology techniques are combined with multiscale molecular imaging ranging from correlative Electron Microscopy to Magnetic Resonance Imaging. The genetically controlled molecular tools are applied for dynamic analyses of organoids and neurobehavioral imaging of preclinical model organisms to dissect cellular network function and contribute to future imaging-controlled tissue engineering and cell therapies.
Professor Westmeyer studied medicine and philosophy in Munich and conducted his doctoral work on the molecular basis of Alzheimer's disease in Professor Christian Haass' laboratory before receiving a part of his clinical education at Harvard Medical School. He then worked with Professor Alan Jasanoff as a postdoctoral fellow at M.I.T before he joined TUM. Professor Westmeyer is currently Professor of Neurobiological Engineering at TUM School of Natural Sciences and TUM School of Medicine and is also the Director of the Institute for Synthetic Biomedicine at Helmholtz Center Munich.
Awards
ERC Consolidator Grant "EMcapsulins" (2019) and ERC Starting Grant "MagnetoGenetics" (2013)
Helmholtz Young Investigator's Group (2011)
Innovative Research Award for Biomedical Technology "Stiftung Familie Klee" (2005)
Scholarship of the Munich-Harvard Alliance for Medical Education (2004)
Scholarship of the German National Academic Foundation (Studienstiftung) (2002-2004)
Key Publications
Sigmund, F., Berezin, O., Beliakova, S., Magerl, B., Drawitsch, M., Piovesan, A., Gonçalves, F., Bodea, S-V., Winkler, S., Bousraou, Z., Grosshauser, M., Samara, E., Pujol-Martí, J., Schädler, S., So, C., Irsen, S., Walch, A., Kofler, F., Piraud, M., Kornfeld, J., Briggman, K., Westmeyer, G.G., 2023, Genetically encoded barcodes for correlative volume electron microscopy. Nature Biotechnology, 2023.
Abstract
Truong, D.-J.J.*, Armbrust, N.*, Geilenkeuser, J., Lederer, E-M., Santl, T., Beyer, M. Ittermann, S., Steinmaßl, E., Dyka, M., Raffl, Phlairaharn, T., Greisle, T., Zivanic, M., Grosch, M., Drukker, M.,, Westmeyer G.G., 2022. Intron-encoded cistronic transcripts for minimally-invasive monitoring of coding and non-coding RNAs." Nature Cell Biology, 2022; 24, 1666–1676. *equal contribution.
Abstract
Truong, D.-J.J., Phlairaharn, T, Eßwein, B, Gruber, C, Tümen, D., Baligács, E, Armbrust, N, Vaccaro, F.L, Lederer, E., Beck, E.M, Geilenkeuser, J, Göppert, S, Krumwiede, L, Grätz, C, Raffl, G, Schwarz, D, Zirngibl, M, Živanić, M, Beyer, M, Körner, J.D, Santl, T, Evsyukov, V, Strauß, T, Schwarz, S, Höglinger, G, Heutink, P, Doll. S, Conrad, M, Giesert, F, Wurst, W, Westmeyer, G.G: "Non-invasive and high-throughput interrogation of exon-specific isoform expression." Nature Cell Biology, 2021; 23(6): 652–663.
Abstract
Sigmund F, Massner C, Erdmann P, Stelzl A, Rolbieski H, Fuchs H, de Angelis M H, Desai M, Bricault S, Jasanoff A, Ntziachristos V, Plitzko J, Westmeyer GG: "Bacterial encapsulins as orthogonal compartments for mammalian cell engineering". Nat Commun., 2018; 9: 1990.
Abstract
Symvoulidis P, Lauri A, Stefanoiu A, Cappetta M, Schneider S, Jia H, Stelzl A, Koch M, Perez C C, Myklatun A, Renninger S, Chmyrov A, Lasser T, Wurst W, Ntziachristos V, Westmeyer, GG: "NeuBtracker - imaging neurobehavioral dynamics in freely behaving fish". Nat Methods., 2017; 14: 1079–1082.
Abstract