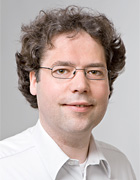 Academic Career and Research Areas
Professor Wilkens (b. 1974) conducts research in the field of medical physics focusing primarily on the radiation therapy of cancer patients. A major focus is the optimization of treatment planning for protons and ion beam. Other research interests include physical and radiobiological models to describe the effect of radiation in the patient and the implementation of modern, image-based techniques in tumor therapy.
Professor Wilkens studied physics at LMU Munich and in Nottingham (UK) and completed his PhD in 2004 in Heidelberg. Subsequently, he worked as a member of the research staff at the German Cancer Research Centre in Heidelberg and for a period of time held a postdoctoral research position at Washington University School of Medicine in St. Louis (USA). In 2008 he was appointed to a position at TUM's Klinikum rechts der Isar with research interests in the field of "Advanced Technologies in Radiation Therapy". Since 2012 he has headed the Medical Physics Unit within the Department of Radiation Therapy.
Kamp F, Wilkens JJ: "Application of variance-based uncertainty and sensitivity analysis to biological modeling in carbon ion treatment plans". Medical Physics. 2019; 46(29): 437-447.
Abstract
Burger K, Ilicic K, Dierolf M, Günther B, Walsh DWM, Schmid E, Eggl E, Achterhold K, Gleich B, Combs SE, Molls M, Schmid TE, Pfeiffer F, Wilkens JJ: "Increased cell survival and cytogenetic integrity by spatial dose redistribution at a compact synchrotron X-ray source". PLoS ONE. 2017; 12(10): e0186005.
Abstract
Müller BS, Wilkens JJ: "Prioritized efficiency optimization for intensity modulated proton therapy". Physics in Medicine and Biology. 2016; 61(23): 8249-8265.
Abstract
Bin J, Allinger K, Assmann W, Dollinger G, Drexler GA, Friedl AA, Habs D, Hilz P, Hoerlein R, Humble N, Karsch S, Khrennikov K, Kiefer D, Krausz F, Ma W, Michalski D, Molls M, Raith S, Reinhardt S, Röper B, Schmid TE, Tajima T, Wenz J, Zlobinskaya O, Schreiber J and Wilkens JJ: "A laser-driven nanosecond proton source for radiobiological studies". Applied Physics Letters. 2012; 101: 243701.
Abstract
Pflugfelder D, Wilkens JJ and Oelfke U: "Worst case optimisation: a method to account for uncertainties in the optimisation of intensity modulated proton therapy". Physics in Medicine and Biology. 2008; 53(6): 1689-1700.
Abstract