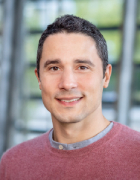 Academic Career and Research Areas
Wimmer's (*1985) field of research is the area of Experimental Audiology. He is engaged in improving diagnostic and treatment technology for inner ear disorders (hearing loss, tinnitus & vertigo), which are poorly understood to date. His work is centered on a multidisciplinary approach that combines audiology with aspects of otology, radiology, and medical imaging. One focus is on cochlear implant research, conducted in close collaboration with clinicians.
Prof. Wimmer studied Biomedical Engineering at the Graz University of Technology and received his PhD from the University of Bern (2015). This was followed by a postdoctoral stay at INRIA/Sophia Antipolis, and the habilitation in Experimental Audiology at the University of Bern (2021). In 2023, Prof. Wimmer was appointed to the professorship of Experimental Audiology at the Technical University of Munich.
Awards
Hans Joachim Denecke Award and KUKA Best Paper Award (with co-authors) (2017)
Hamlyn Medical Robotics Award for Best Oral Presentation (with co-authors) (2013)
Merit Scholarship of the Graz University of Technology (2012)
Aebischer P, Meyer S, Caversaccio M, Wimmer W. (2021): "Intraoperative impedance-based estimation of cochlear implant electrode array insertion depth." IEEE Transactions on Biomedical Engineering; 68:545-555.
Abstract
Fischer T, Schmid C, Kompis M, Mantokoudis G, Caversaccio M, Wimmer W. (2021): "Pinna-Imitating Microphone Directionality Improves Sound Localization and Discrimination in Bilateral Cochlear Implant Users." Ear Hearing; 42: 214.
Abstract
Hu S, Hall DA, Zubler F, Sznitman R, Anschuetz L, Caversaccio M, Wimmer W. (2021): "Bayesian brain in tinnitus: Computational modeling of three perceptual phenomena using a modified Hierarchical Gaussian Filter". Hearing Research; 410: 108338.
Abstract
Wimmer W, Vandersteen C, Guevara N, Caversaccio M, Delingette H. (2019): "Robust Cochlear Modiolar Axis Detection in CT". MICCAI Lecture Notes in Computer Science, 11768.
Abstract
Weber S, Gavaghan K, Wimmer W, Williamson T, Gerber N, Anso J, Bell B, Feldmann A, Rathgeb C, Matulic M, Mantokoudis G, Scheidegger O, Wagner F, Kompis M, Caversaccio M. (2017): "Instrument flight to the inner ear". Science Robotics; 2:1-12.
Abstract