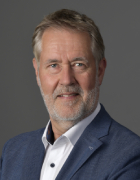 Prof. Dr. Wilhelm Windisch
Academic Career and Research Areas
Prof. Windisch (b. 1958) investigates nutrition in livestock for the production of food of animal origin. He focuses on the effectiveness of functional dietary compounds, the use of biogenic (by-)products from new technologies as animal feed and the physiological principles and tolerances of nutrient transformation in the metabolism of livestock. He also investigates the quality and safety of animal-derived food.
After studying agricultural science at TUM, Prof. Windisch did his doctorate in 1988 and his lecturer qualification in 1995. Prior to his appointment as full professor at TUM, he was professor of animal nutrition at the University of Natural Resources and Life Sciences Vienna (BOKU) (2002-2010). Prof. Windisch is a member of the Society for Nutrition Physiology (GfE) and other scientific societies.
In August 2022, Prof. Windisch ended his active service at TUM in the context of partial retirement. The Chair of Animal Nutrition was closed. The successor institution is the Professorship of Animal Nutrition and Metabolism.
Brugger D., Hanauer M., Ortner J., Windisch W. (2021): The response of zinc transporter gene expression of selected tissues in a pig model of subclinical zinc deficiency. The Journal of Nutritional Biochemistry. 90:108576.
Abstract
Windisch W., Flachowsky G. (2020) Tierbasierte Bioökonomie. In: Thrän D., Moesenfechtel U. (eds) Das System Bioökonomie. Springer Spektrum, Berlin, Heidelberg.
Abstract
Brugger, D., Bolduan, C., Becker, C., Buffler, M., Zhao, J., Windisch, W. (2020). Effects of whole plant brown algae (Laminaria japonica) on zootechnical performance, apparent total tract digestibility, fecal characteristics and blood plasma urea in weaned piglets. Archives of Animal Nutrition.
Abstract
Hoffmann DH, Thurner S, Ankerst DP, Damme K, Windisch WM, Brugger D (2019). Chickens´growth performance and pancreas development exposed to soy cake varying in trypsin inhibitor activity, heat degraded lysine concentration and protein solubility in potassium hydroxide. Poultry Science., pey592.
Abstract
Brugger D, Windisch W (2019). Zn metabolism of monogastric species and consequences for the definition of feeding requirements and the estimation of feed zinc bioavailability. J. Zhejiang Univ. Sci. B. 20(8): 617-627.
Abstract