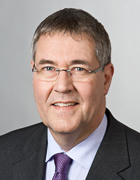 Prof. Dr. Wilhelm Windisch
Academic Career and Research Areas
Prof. Windisch (b. 1958) investigates nutrition in livestock for the production of food of animal origin. He focuses on the effectiveness of functional dietary compounds, the use of biogenic (by-)products from new technologies as animal feed and the physiological principles and tolerances of nutrient transformation in the metabolism of livestock. He also investigates the quality and safety of animal-derived food.
After studying agricultural science at TUM, Prof. Windisch did his doctorate in 1988 and his lecturer qualification in 1995. Prior to his appointment as full professor at TUM, he was professor of animal nutrition at the University of Natural Resources and Life Sciences Vienna (BOKU) (2002-2010). Prof. Windisch is a member of the Society for Nutrition Physiology (GfE) and other scientific societies.
Awards
Henneberg-Lehmann-Förderpreis, Georg-August-Universität Göttingen (1996)
Dr. Heinrich-Baur-Förderpreis, TU München (1994)
H. Wilhelm Schaumann-Preis, Gesellschaft für Ernährungsphysiologie (1991)
Brugger D, Windisch W: "Short-term subclinical zinc deficiency in weaned piglets affects cardiac redox metabolism and zinc concentration". Journal of Nutrition. 2017; 147(4): 521-527.
Abstract
Brugger D, Windisch W: "Subclinical zinc deficiency impairs pancreatic digestive enzyme activity and digestive capacity of weaned piglets". British Journal of Nutrition. 2016; 116(3): 425-433.
Abstract
Brugger D, Loibl P, Schedle K, Windisch W, Fahn C: "In-silico and in-vitro evaluation of the potential of maize kernels to inhibit trypsin activity". Animal Feed Science and Technology. 2015(207): 289-294.
Abstract
Windisch W, Schedle K, Plitzner C, Kroismayr A: "Use of phytogenic products as feed additives for swine and poultry". Journal of Animal Science. 2008; 86 (E. Suppl.): E140-E148.
Abstract
Schlegel P, Windisch W: "Bioavailability of zinc glycinate in comparison with zinc sulphate in the presence of dietary phytate in an animal model with Zn labelled rats". Journal of Animal Physiology and Animal Nutrition. 2006; 90: 216-222.
Abstract