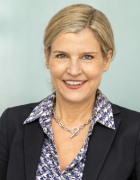 Prof. Dr. Juliane Winkelmann
Academic Career and Research Areas
The research of Juliane Winkelmann focuses on the genetic architecture and underlying molecular mechanisms of complex genetic neurological disorders as well as rare diseases with a special focus on movement and sleep disorders. Winkelmann and her team have made primary discoveries of genetic variants for common neurological disorders including Restless Leg Syndrome and Dystonia. Her research at the Institute of Neurogenomics (ING) is laying the groundwork for personalized medicine. Through an understanding of genetic predisposition to disease her aim is to be able to prevent disease in individuals and provide superior diagnostic information, paving the way for therapies tailored to the individual patient.
Winkelmann studied medicine at Semmelweis University in Budapest, Hungary, and at LMU Munich. Her doctoral research was conducted at the Max Planck Institute of Psychiatry. She was Professor of Neurology and Neuroscience at Stanford University in California before being appointed Chair of Neurogenetics at TUM in 2015 and Chair of Human Genetics in 2023. Since 2017 she has been Senior Vice President International Alliances and Alumni.
Awards
Member of the Leopoldina, German National Academy of Sciences (2020)
Sleep Science Award, American Academy of Neurology (2016)
Dingebauer Award, German Society of Neurology (2014)
Outstanding Scientific Achievement Award, Sleep Research Society, USA (2009)
Key Publications
Zech M, Jech R, Boesch S, Škorvánek M, Weber S, Wagner M, Zhao C, Jochim A, Necpál J, Dincer Y, Vill K, Distelmaier F, Stoklosa M, Krenn M, Grunwald S, Bock-Bierbaum T, Fečíková A, Havránková P, Roth J, Příhodová I, Adamovičová M, Ulmanová O, Bechyně K, Danhofer P, Veselý B, Haň V, Pavelekova P, Gdovinová Z, Mantel T, Meindl T, Sitzberger A, Schröder S, Blaschek A, Roser T, Bonfert MV, Haberlandt E, Plecko B, Leineweber B, Berweck S, Herberhold T, Langguth B, Švantnerová J, Minár M, Ramos-Rivera GA, Wojcik MH, Pajusalu S, Õunap K, Schatz UA, Pölsler L, Milenkovic I, Laccone F, Pilshofer V, Colombo R, Patzer S, Iuso A, Vera J, Troncoso M, Fang F, Prokisch H, Wilbert F, Eckenweiler M, Graf E, Westphal DS, Riedhammer KM, Brunet T, Alhaddad B, Berutti R, Strom TM, Hecht M, Baumann M, Wolf M, Telegrafi A, Person RE, Zamora FM, Henderson LB, Weise D, Musacchio T, Volkmann J, Szuto A, Becker J, Cremer K, Sycha T, Zimprich F, Kraus V, Makowski C, Gonzalez-Alegre P, Bardakjian TM, Ozelius LJ, Vetro A, Guerrini R, Maier E, Borggraefe I, Kuster A, Wortmann SB, Hackenberg A, Steinfeld R, Assmann B, Staufner C, Opladen T, Růžička E, Cohn RD, Dyment D, Chung WK, Engels H, Ceballos-Baumann A, Ploski R, Daumke O, Haslinger B, Mall V, Oexle K, Winkelmann J.Lancet Neurol. "Monogenic variants in dystonia: an exome-wide sequencing study" 2020 (11):908-918.
Abstract
Schormair B, Zhao C, Bell S, Tilch E, Salminen AV, Pütz B, Dauvilliers Y, Stefani A, Högl B, Poewe W, Kemlink D, Sonka K, Bachmann CG, Paulus W, Trenkwalder C, Oertel WH, Hornyak M, Teder-Laving M, Metspalu A, Hadjigeorgiou GM, Polo O, Fietze I, Ross OA, Wszolek Z, Butterworth AS, Soranzo N, Ouwehand WH, Roberts DJ, Danesh J, Allen RP, Earley CJ, Ondo WG, Xiong L, Montplaisir J, Gan-Or Z, Perola M, Vodicka P, Dina C, Franke A, Tittmann L, Stewart AFR, Shah SH, Gieger C, Peters A, Rouleau GA, Berger K, Oexle K, Di Angelantonio E, Hinds DA, Müller-Myhsok B, Winkelmann J; 23andMe Research Team; DESIR study group. "Identification of novel risk loci for restless legs syndrome in genome-wide association studies in individuals of European ancestry: a meta-analysis". Lancet Neurol. 2017; 16(11):898-907.
Abstract
Zech M, Boesch S, Maier EM, Borggraefe I, Vill K, Laccone F, Pilshofer V, Ceballos-Baumann A, Alhaddad B, Berutti R, Poewe W, Haack TB, Haslinger B, Strom TM, Winkelmann J. "Haploinsufficiency of KMT2B, Encoding the Lysine-Specific Histone Methyltransferase 2B, Results in Early-Onset Generalized Dystonia". Am J Hum Genet. 2016; 99(6):1377-1387.
Abstract
Schormair B*, Kemlink D*, Roeske D, Eckstein G, Xiong L, Lichtner P, Trenkwalder C, Zimprich A, Högl , Poewe W, Stiasny-Kolster K, Oertel W, Bachmann CG, Paulus W, Peglau I, Vodicka P, Vávrová J, Sonka K, Montplaisir J, Turecki G, Rouleau G, Gieger C, Thomas Illig, H-Erich Wichmann H-E, Holsboer F, Müller- Myhsok B, Thomas Meitinger T, Winkelmann J: "Protein-tyrosine Phosphatase Receptor Type Delta (PTPRD) is Associated with Restless Legs Syndrome". Nature Genetics. 2008; 40: 946-948.
Abstract
Winkelmann J, Schormair B, Lichtner P, Ripke S, Xiong L, Jalilzadeh S, Fulda S, Putz B, Eckstein G, Hauk S, Trenkwalder C, Zimprich A, Stiasny-Kolster K, Oertel W, Bachmann CG, Paulus W, Peglau I, Eisensehr I, Montplaisir J, Turecki G, Rouleau G, Gieger C, Illig T, Wichmann HE, Holsboer F, Muller-Myhsok B, Meitinger T: "Genome-wide association study of restless legs syndrome identifies common variants in three genomic regions". Nature Genetics. 2007; 39(8): 1000-1006.
Abstract