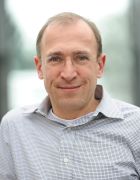 Academic Career and Research Areas
Professor Witt (b. 1966) conducts research on the molecular causes of gastroenterological diseases in childhood and adolescence, focusing on the identification of disease genes that predispose them to the development of pancreatic diseases, such as chronic pancreatitis. His research interests also include the genetics of inflammatory bowel disease, various liver diseases and fructose malabsorption.

After studying medicine and earning his MD (1998) at the Humboldt University of Berlin, Professor Witt acquired his post-doctoral teaching qualification (Habilitation) at the Charité (2004). In 2008, he assumed a professorship position funded by the Else Kröner-Fresenius Foundation (EKFS) at TUM. Professor Witt is a member of the German Society of Pediatrics and Adolescent Medicine (DGKJ), the German Society of Digestive and Metabolic Disorders (DGVS), the Society of Paediatric Gastroenterology and Nutrition (GPGE), the European Pancreas Club (EPC), the International Association of Pancreatology (IAP) and the European Society of Paediatric Gastroenterology, Hepatology and Nutrition (ESPGHAN).
Awards
Dr. Norbert Henning Prize for Gastroenterology (2003)
Honorary Member of the Medical and Natural Scientific Society of the University of Parma (2003)
Research Prize of the Charité (2000)
Fjeld K et al.: "A recombined allele of the lipase gene CEL and its pseudogene CELP confers susceptibility to chronic pancreatitis". Nat Genet. 2015; 47(5): 518-522.
Abstract
Witt H et al.: "Variants in CPA1 are strongly associated with early onset chronic pancreatitis". Nat Genet. 2013; 45(10): 1216-1220.
Abstract
Rosendahl J et al.: "Chymotrypsin C (CTRC) variants that diminish activity or secretion are associated with chronic pancreatitis". Nat Genet. 2008; 40(1): 78-82.
Abstract
Witt H et al.: "A degradation-sensitive anionic trypsinogen (PRSS2) variant protects against chronic pancreatitis". Nat Genet. 2006; 38(6): 668-673.
Abstract
Witt H, Luck W, Hennies HC, et al.: "Mutations in the gene encoding the serine protease inhibitor, Kazal type 1 are associated with chronic pancreatitis". Nature Genet. 2000; 25(2): 213-216.
Abstract