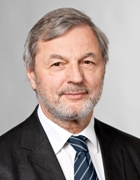 Academic Career and Research Areas
The main areas of Prof. Wolf's (b. 1948) research are the complete realization of biohybrid, microsensor-based lab-on-chip systems for systemic drug discovery, tumor diagnosis and treatment. These can be used for several applications, including water or food analysis. Furthermore, his team also conducts research in telemedical systems, intelligent implants and systems biology, as well as therapy and diagnostics with magnetic fields. Currently, he continues his projects in cooperation with the TUM at the "Steinbeis Transfer Center Medical Electronics and Lab on Chip Systems."
After studying biology, physics and chemistry at the University of Freiburg, he did his doctorate there in biology and state examinations (Staatsexamen) for the qualification of secondary school physics teacher. After obtaining his lecturer qualification, he lectured in Freiburg and the École Supérieure de Biotechnologie in Strasbourg. After that, he became professor of biophysics at the University of Rostock. Prof. Wolf is a member of acatech (German National Academy of Science and Engineering) and the scientific advisory board of TÜV Süddeutschland. Moreover, he is Scientific Director of the VDE's working group on medical engineering.
Hefele M, Wirths W, Brischwein M, Grothe H, Kreupl F, Wolf B: "Measuring fluorescence-lifetime and bio-impedance sensors for cell based assays using a network analyzer integrated circuit". Biosensors & Bioelectronics. 129, Elsevier, 2019, 292-297.
Abstract
Hinderer M, Friedrich P, Wolf B: "An autonomous stair-climbing wheelchair". Robotics and Autonomous systems. 2017; 94: 219-225.
Abstract
Amaral CF, Brischwein M, Wolf B: "Multiparameter techniques for non-invasive measurement of blood glucose". Sensors and Actuators B. 2009; 140: 12-16.
Abstract
Wolf B, Kraus M, Sieben U: "Potential of microsensor-based feedback bioactuators for biophysical cancer treatment". Biosensors & Bioelectronics. 1997; 12: 301-309.
Abstract
Kraus M, Wolf B: "Structured Biological Modelling - A New Approach to Biophysical Cell Biology". Boca Raton, Florida: CRC Press Inc., 1995.
Abstract