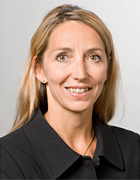 Academic Career and Research Areas
The research area of Professor Wolf (b. 1966) is the development of innovative components for building envelopes. The integrative approach is always an important factor when it comes to increasing efficiency. For instance, this can involve the integration of transparent systems for day lighting or the development of individual components such as a transparent facade collector that collects solar energy as well as providing sun protection and relief from glare.
Professor Wolf studied architecture at the University of Stuttgart before working at various architect's offices including Architects Renzo Piano Building Workshop in Paris and Thomas Herzog in Munich. Subsequently, she worked as a research assistant at the University of Stuttgart's Institute of Building Construction with Professor Stefan Behling, under whose supervision she ultimately earned her PhD. Since its foundation in 2009 she has headed the Department of Technology and Design of Building Envelopes at TUM.
Awards
Recipient of a certificate of honor from TUM for excellence in teaching (2011)
Intersolar Award (2010)
Recipient of a European Solar Prize for excellence and innovation in the field of solar energy (Eurosolarplakette) (2005)
Recipient of a special prize from the Bavarian Association for the Promotion of Solar Power (2005)
Recipient of a research prize from the German Steel Construction Association (1993)
Key Publications
Wolf T: "Solar Thermally Activated Building Envelopes". Conference Advanced Building Skins, Graz University of Technology. 2012.
Wolf T: "Solaroptimierte Fassade". Metallbau. 2012; 6: Seite 38–41.
Volz (jetzt Wolf) T.: "Solare Architektur – Forschung und Entwicklung". Detail. 2007; 6: 666-669.
Wolf T, Molter P: "Verformen von Gläsern im Bauwesen". Detail. 2011; Bauen mit Glas: 80-86.
Volz (jetzt Wolf ) T.: "Einfamilienhaus in Hegenlohe". Detail. 2005; 6: 624-627.