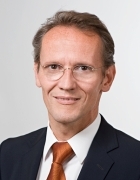 Prof. Dr. Dr. Klaus-Dietrich Wolff
Academic Career and Research Areas
Professor Wolff (b. 1959) researches in the area of plastic reconstructive facial surgery. The aim of his research work is to improve the microsurgical transfer of tissue through a better understanding of the construction, physiology and healing of tissue transplants. His main focus is on the development of an extracorporal oxygenation and perfusion system and the clinical establishment of perforator flaps to replace soft tissue.
After studying medicine and dentistry at FU Berlin, Professor Wolff completed his PhD in both subjects in 1987 and acquired his postdoctoral teaching qualification (habilitation) in 1994. Subsequently he was appointed adjunct professor at FU Berlin in 1999. This was followed by a position at Ruhr University Bochum where he held the Chair of Oral Surgery and Plastic Facial Surgery from 2000 to 2007 and the post of medical director from 2004 to 2007. In 2007 he accepted an appointment at TUM where he has since been a professor at Klinikum rechts der Isar and a member of a number of professional associations.
Awards
President, European Association for Cranio-Maxillofacial-Surgery (2016-2018)
Präsident, AHMO (2009)
Norman Rowe - Lecture (2018)
Martin Waßmund-Award, German Association for Maxillifacial-Surgery (1994)
Key Publications
Wolff KD, Mücke T, Lehmbrock J, Loeffelbein DJ, Kesting MR, Hölzle F: "Rapid autonomisation of a combined fibular- and anterolateral thigh flap transferred by a wrist carrier to an irridated and vessel depleted neck". Journal of Surgical Oncology. 2009; 99(2): 123-126.
Abstract
Wolff KD, Hölzle F, Nolte D: "Perforator flaps from the lateral lower leg for intraoral reconstruction". Plastic and Reconstructive Surgery. 2004; 113(1): 107-113.
Abstract
Wolff KD, Grundmann A: "The free vastus lateralis flap: an anatomic study with case reports". Plastic and Reconstructive Surgery. 1992; 89 (3): 469-475.
Abstract