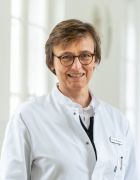 Prof. Dr. Barbara Wollenberg
Academic Career and Research Areas
Prof. Wollenberg (*1964) intensively studies interactions between the immune system and head and neck cancer. Identification of diagnostic and prospective biomarkers flank the research on mechanisms how tumor cells use healthy cells of the immune system to drive their own cancer progression. A special focus includes the analysis of inflammatory pathways.Clinically she introduced a study center for immunotherapeutic drugs.
Prof Wollenberg studied medicine at the universities of the Saarland and the LMU Munich, took a PhD at the institute of immunology and habilitated at the LMU. After specialisation in ENT with additional designations in allergy, plastic, special and skull base surgery she changed to a Heisenberg Scholarship of the DFG. 2002 she became director and chair at the university of Lübeck. 2019 she changed at MRI TUM. She is member of the Leopoldina.
Awards
Acta Prize of the Collegium Otorhinolaryngologicum Amicitiae Sacrum (CORLAS) (2019)
Georg Hebererprize of the Chiles Foundation(2004)
Monika Kutznerprize for Cancer Research, Berlin Brandenburgische Academy of Science (2001)
Anton on Troeltschprize, German Society for Otorhinolaryngology, Head and Neck Surgery (2000)
Watermann C, Pasternack H, Idel C, Ribbat-Idel J, Brägelmann J, Kuppler P, Offermann A, Jonigk D, Kühnel MP, Schröck A, Dreyer E, Rosero C, Nathansen J, Dubrovska A, Tharun L, Kirfel J, Wollenberg B, Perner S, Krupar R.: "Recurrent HNSCC Harbor an Immunosuppressive Tumor Immune Microenvironment Suggesting Successful Tumor Immune Evasion". Clin Cancer Res.. 2021; 27(2): 632-644.
Abstract
Polasky C, Wendt F, Pries R, Wollenberg B.: "Platelet Induced Functional Alteration of CD4 + and CD8 + T Cells in HNSCC". Int J Mol Sci.. 2020; 21(20): 7507.
Abstract
Wollenberg B.: "PD-1 antibodies in head-and-neck cancer". Lancet. 2019; 393(10167): 108-109.
Abstract
Rolfes V, Idel C, Pries R, Plötze-Martin K, Habermann J, Gemoll T, Bohnet S, Latz E, Ribbat-Idel J, Franklin BS, Wollenberg B.: "PD-L1 is expressed on human platelets and is affected by immune checkpoint therapy" Oncotarget. 2018; 9(44): 27460-27470.
Abstract
Kesselring R, Thiel A, Pries R, Fichtner-Feigl S, Brunner S, Seidel P, Bruchhage KL, Wollenberg B.: "The complement receptors CD46, CD55 and CD59 are regulated by the tumour microenvironment of head and neck cancer to facilitate escape of complement attack". Eur J Cancer. 2014; 50(12): 2152-61.
Abstract