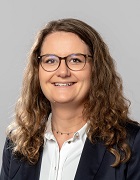 Prof. Dr.-Ing. Katrin Wudy
Academic Career and Research Areas
Prof. Wudys (*1987) research area are laser-based additive manufacturing techniques with plastics and metals. The research focus is along the entire process chain from material development, new process strategies to automation solutions and quality management in additive manufacturing.
Prof. Wudy studied plastics and rubber engineering at the University of Applied Science Würzburg-Schweinfurt and finishes her PhD at the Friedrich-Alexander-Universität Erlangen-Nürnberg (FAU) in the field of powder and beam based additive manufacturing in 2017. From 2015 to 2019, Prof. Wudy headed the "Additive Manufacturing" working group at the Institute of Polymer Technology and was Managing Director of the CRC 814 "Additive Manufacturing" at the FAU. In 2019, Prof. Wudy was appointed as Assistant Professor for laser-based Additive Manufacturing at the TUM.
Key Publications
Wudy K, Budde T: "Reaction kinetics and curing behavior of epoxies for use in a combined selective laser beam melting process of polymers". Journal of Applied Polymer Science. 2019; 136 (7): 46850.
Abstract
Wudy K, Drummer D: "Aging effects of polyamide 12 in selective laser sintering: Molecular weight distribution and thermal properties". Additive Manufacturing. 2019; 25: 1-9
Abstract
Wudy K, Drexler M, Lanzl L, Drummer D: "Analysis of time dependent thermal properties for high rates in selective laser sintering". Rapid Prototyping Journal. 2018; 24 (5): 894-900.
Abstract
Osmanlic F., Wudy K., Laumer T., Schmidt M., Drummer D., Körner C.: "Modeling of Laser Beam Absorption in a Polymer Powder Bed". Polymers. 2018; 10: 784.
Abstract
Wudy K, Hinze M, Ranft F, Drummer D, Schwieger W: "Selective laser sintering of zeolite filled polypropylene composites: Processing and properties of bulk adsorbents". Journal of Materials Processing Technology. 2017; 246: 136-143.
Abstract