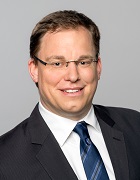 Prof. Dr. Stefan Wurster
Bavarian School of Public Policy
Academic Career and Research Areas
Stefan Wurster (b. 1980) conducts research on policy analysis in areas closely linked to sustainability such as education, research, innovation, environmental policy and energy policy. His specific research interests include the comparison of democracies and autocracies as well as different instruments of policy regulation.
Wurster studied political science, history and public law in Heidelberg and Barcelona. In 2010 he was awarded a PhD with distinction (summa cum laude). From 2009 to 2015 he was a research associate in Heidelberg. In 2010 he commenced a postdoctoral research project on "Sustainability and Regime Type", successfully completing the interim evaluation in 2013. From 2012 to 2015 he coordinated a doctoral study program on the "Performance of Politics in Autocratic and Democratic Regimes" and from 2015 to 2016 he worked as an assistant professor at the University of Trier. Since 2016 he has been professor of policy analysis at TUM's Bavarian School of Public Policy.
Key Publications
Wurster S, Hagemann C: "Two ways to success - Expansion of renewable energies in comparison between Germany's federal states". Energy Policy. 2018; 119: 610-619.
Abstract
Rohm C, Wurster S: "Volk oder Parlament: Wer entscheidet nachhaltiger? Eine vergleichende Untersuchung von Nachhaltigkeitsabstimmungen in der Schweiz". Swiss Political Science Review. 2016; 22(2): 185-212.
Abstract
Richter T, Wurster S: "Policy diffusion among Democracies and Autocracies. Trade Reforms and Nuclear Energy Policy in Comparison". Global Policy. 2016; 7(4): 541–547.
Abstract
Wurster S: "Comparing ecological sustainability in autocracies and democracies". Contemporary Politics. 2013; 19(1): 76-93.
Abstract
Wurster S: Zukunftsvorsorge in Deutschland - Ein Vergleich der Bildungs-, Forschungs-, Umwelt-, und Energiepolitik. Baden-Baden: Nomos, 2010.
Abstract