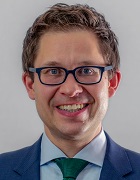 Academic Career and Research Areas
In his research, Prof. Wuttke (*1984) focuses on supply chain management, especially supply chain finance, digitalization, innovations in supply chains and behavioral operations management. In doing so, Prof. Wuttke applies both empirical and quantitative methods.
After completing his diploma studies at the University of Paderborn and Dublin City University in 2009, Prof. Wuttke received his doctorate at EBS Universität für Wirtschaft und Recht in 2013 on the subject of supply chain finance. In 2019 he was habilitated there with publications in the areas of supply chain finance and supply chain risk management, and others. Parallel to his doctorate, Prof. Wuttke studied mathematics (Bachelor) at FernUniversität in Hagen. Prof. Wuttke was Assistant Professor at EBS University from 2016 to 2019 before being appointed Assistant Professor at the TUM School of Management at Heilbronn Campus in 2020.
Awards
Best Reviewer Award of the International Journal of Operations & Productions Management (2020)
Outstanding Reviewer Award of the International Journal of Production Economics (2020)
EBS Junior Research Award (2016 & 2017)
Decision Sciences Journal – Outstanding Reviewer (2014)
Emerald/EFMD Outstanding Doctoral Research Award: Logistics and SCM (2013)
Key Publications
Wuttke DA, Rosenzweig ED, Heese HS: "An empirical analysis of supply chain finance adoption". Journal of Operations Management. 2019; 65(3): 242-261.
Abstract
Wuttke DA, Donohue K, Siemsen E: "Initiating supplier new product development projects: A behavioral investigation". Production and Operations Management. 2018; 27(1): 80-99.
Abstract
Wuttke DA, Blome C, Foerstl K, Henke M: "Managing the innovation adoption of supply chain finance – Empirical evidence from six European case studies". Journal of Business Logistics. 2013; 34(2): 148-166.
Abstract