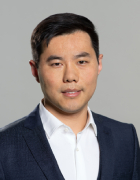 Academic Career and Research Areas
Prof. Yu (1985) researches the interdisciplinary area for precision agriculture. He is interested in studying plant-environment interactions and their control from multiple scales by integrating a range of imaging, sensing, statistical modeling and computational approaches. He focuses on developing and utilizing proximal and remote sensing methods to quantify the spatiotemporal variability of plant growth and health, aiming to facilitate precise and smart crop management, improving resource use efficiency and reducing environmental impact.
Dr. Yu studied Agricultural and Environmental Sciences at China Agricultural University (CAU), Beijing. After receiving his doctorate in Physical Geography at the University of Cologne in 2014, he did postdoc research at ETH Zurich and KU Leuven. In 2019, Dr. Yu was appointed as an associate professor for crop science at CAU. Since 2020, Prof. Yu was appointed to the professorship for Precision Agriculture at TUM.
Awards
Innovation Team Award, The Crop Science Society of China (2019)
GSGS Fellowship Grant, Graduate School of Geosciences, University of Cologne (2014)
The State Scholarship Study Abroad Program, China Scholarship Council (2009)
SINOCHEM Fertilizer Scholarship, China Agricultural University (2008)
Yu, K.; Van Geel, M.; Ceulemans, T.; Geerts, W.; Ramos, M.M.; Serafim, C.; Sousa, N.; Castro, P.M.L.; Kastendeuch, P.; Najjar, G.; Ameglio, T.; Ngao, J.; Saudreau, M.; Honnay, O.; Somers, B.: "Vegetation reflectance spectroscopy for biomonitoring of heavy metal pollution in urban soils". Environmental Pollution. 2018; 243: 1912–1922.
Abstract
Yu, K.; Anderegg, J.; Mikaberidze, A.; Karisto, P.; Mascher, F.; McDonald, B.A.; Walter, A.; Hund, A.: "Hyperspectral Canopy Sensing of Wheat Septoria Tritici Blotch Disease". Front. Plant Sci.. 2018; 9.
Abstract
Yu, K.; Kirchgessner, N.; Grieder, C.; Walter, A.; Hund, A.: "An image analysis pipeline for automated classification of imaging light conditions and for quantification of wheat canopy cover time series in field phenotyping". Plant Methods. 2017; 13: 15.
Abstract
Yu, K.; Lenz-Wiedemann, V.; Chen, X.; Bareth, G.: "Estimating leaf chlorophyll of barley at different growth stages using spectral indices to reduce soil background and canopy structure effects". ISPRS Journal of Photogrammetry and Remote Sensing. 2014; 97: 58–77.
Abstract
Yu, K.; Li, F.; Gnyp, M.L.; Miao, Y.; Bareth, G.; Chen, X.: "Remotely detecting canopy nitrogen concentration and uptake of paddy rice in the Northeast China Plain". ISPRS Journal of Photogrammetry and Remote Sensing.x 2013; 78, 102–115.
Abstract