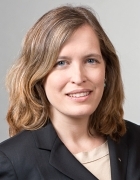 Prof. Donna Ankerst, Ph.D.
Academic Career and Research Areas
Donna Ankerst performs statistical research in the life sciences, with a focus on clinical risk prediction tools based on multi-center clinical trials, observational studies and electronic health records. She created the most validated and internationally accessed online prostate cancer risk calculator and is currently developing deep learning algorithms for three-dimensional mammograms in collaboration with the TUM Rechts der Isar hospital. She works on models for climate change impacts on forest and health outcomes in Bavaria in cooperation with the TUM School of Life Sciences.
After studying mathematics at the University of Texas (UT), Austin, and completing a doctorate in statistics at Carnegie Mellon University, Pittsburgh, Donna Ankerst worked as a postdoctoral researcher at Harvard University, Boston, and subsequently, at the Fred Hutchinson Cancer Research Center, Seattle. In addition to her position at the TUM, she currently holds a research professor appointment in the Department of Epidemiology and Biostatistics at the UT Health Sciences Center in San Antonio.
Awards
Chair of the Data Safety and Monitoring Board for the WISDOM breast cancer screening trial (2016 – present)
Editor, Biometrics Book Reviews (2016 – 2018)
PhD Supervisor Award, TUM Weihenstephan Graduate School (2018)
Prostate Cancer Dream Challenge winner as part of TUM team (2015)
US National Science Foundation Mathematical Sciences Fellowship (1997-2000)
Ankerst DP, Straubinger J, Selig K, Guerrios L, De Hoedt A, Hernandez J, Liss MA, Leach RJ, Freedland SJ, Kattan MW, Nam R, Haese A, Montorsi F, Boorjian SA, Cooperberg MR, Poyet C, Vertosick E, Vickers AJ: "A contemporary prostate biopsy risk calculator based on multiple heterogeneous cohorts". European Urology. 2018; 74 (2):197-203.
Abstract
Ankerst DP, Xia J, Thompson IM, Jr., Hoefler J, Newcomb LF, Brooks JD, Carroll PR, Ellis WJ, Gleave ME, Lance RS, Nelson PS, Wagner AA, Wei JT, Etzioni R, Lin DW: "Precision medicine in active surveillance for prostate cancer: development of the Canary-EDRN active surveillance biopsy risk calculator". European Urology. 2015; 68 (6):1083-1088.
Abstract
Strobl AN, Vickers AJ, van Calster B, Steyerberg E, Leach RJ, Thompson IM, Ankerst DP: "Improving patient prostate cancer risk assessment: moving from static, globally-applied to dynamic, practice-specific cancer risk calculators". Journal of Biomedical Informatics. 2015; 56:87-93.
Abstract
Grill S, Fallah M, Leach RJ, Thompson IM, Hemminki K, Ankerst DP: "A simple-to-use method incorporating genomic markers into prostate cancer risk prediction tools facilitated future validation". Journal of Clinical Epidemiology. 2015; 68 (5):563-73.
Abstract
Thompson IM, Leach RJ, Ankerst DP: "Focusing PSA testing on detection of high-risk prostate cancers by incorporating patient preferences into decision making". Journal of the American Medical Association. 2014; 312 (10):995-996.
Abstract