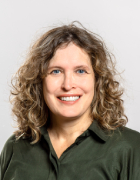 Prof. Donna Ankerst, Ph.D.
Academic Career and Research Areas
Donna Ankerst performs statistical research in the life sciences, with a focus on clinical risk prediction tools based on multi-center clinical trials, observational studies and electronic health records. She created the most validated and internationally accessed online prostate cancer risk calculator and is currently developing deep learning algorithms for three-dimensional mammograms in collaboration with the TUM Rechts der Isar hospital. She works on models for climate change impacts on forest and health outcomes in Bavaria in cooperation with the TUM School of Life Sciences.
After studying mathematics at the University of Texas (UT), Austin, and completing a doctorate in statistics at Carnegie Mellon University, Pittsburgh, Donna Ankerst worked as a postdoctoral researcher at Harvard University, Boston, and subsequently, at the Fred Hutchinson Cancer Research Center, Seattle. In addition to her position at the TUM, she currently holds a research professor appointment in the Department of Epidemiology and Biostatistics at the UT Health Sciences Center in San Antonio.
Awards
Chair of the Data Safety and Monitoring Board for the WISDOM breast cancer screening trial (2016 – present)
Editor, Biometrics Book Reviews (2016 – 2018)
PhD Supervisor Award, TUM Weihenstephan Graduate School (2018)
Prostate Cancer Dream Challenge winner as part of TUM team (2015)
US National Science Foundation Mathematical Sciences Fellowship (1997-2000)