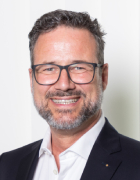 Prof. Dr. Christoph Ann, LL.M.
Academic Career and Research Areas
Prof. Ann's (b. 1962) academic focus are Patents & Trade Secrets including Licensing and Competition Law and their respective business environments (IP strategy and IP management).
Prof. Ann earned law degrees in both, Germany and the U.S. (LL.M., Duke '88). Before coming to Munich, he practiced corporate law as an attorney in Munich and Erlangen, and from 2000-2003 taught IP law as a full Professor of Law at Freiburg University's Faculty of Law, then Germany's #1 law school. From 2001-2003, he also served as a judge on the Mannheim Regional Court's renowned IP Infringement Panel with jurisdiction over the technologically eminent German state of Baden-Württemberg. In 2018, he was suggested to the German judge selection committee as a candidate for a judgeship at the German Federal Court of Justice. Despite the great honor, he decided to have his name taken off the list in order to stay in academia, where he teaches IP Law at both, TUM and the Munich Intellectual Property Law Center (MIPLC). There, he also serves on the (managing) Project Board.
Awards
Best Teaching Award, TUM School of Management (2008)
Best Teaching Award, TUM School of Management (2006)
Ann C: "Patentqualität - Was ist das, und warum ist Patentqualität auch für Anmelder wichtig?". GRUR Int. 2018; 12: 1114-1118.
Abstract
Ann C, Friedl G: "A Cost-Based Approach for calculating royalties for Standard-Essential Patents (SEPs)". Journal of World Intellectual Property. 2018; 21(5): 369-384.
Abstract
Krasser R, Ann C: Patentrecht. München: C. H. Beck Verlag, 2016.
Abstract
Ann C: "Patentwert und Patentnichtigkeit - Wieviel Rechtssicherheit dürfen Patentinhaber beanspruchen?". Mitteilungen der deutschen Patentanwälte (Mitt.). 2016; 6: 245-252.
Abstract
Anetsberger G, Wegner H, Ann C, El Barbari K, Hormann T: "Increasing Formalism in Appeal Proceedings - The EPO Boards of Appeal Headed to a Mere Reviewing Instance?". epi Information. 2015; 2: 63-70.
Abstract