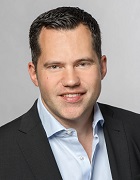 Prof. Dr. Pascal O. Berberat
Academic Career and Research Areas
Pascal Berberat (b.1971) is active in two research areas. In the field of instruction and teacher research his focus lies on a better understanding of teaching and learning processes in order to optimize evidence based didactic methods and to systematically analyze the attitude, motivation and behavior of medical doctors as lecturers and tutors. His second research area concentrates on medical educational biographies with the main focus on so called 'non-rational' dimensions, such as handling existential borderline experiences (suffering, dying and death) und tolerating uncertainty.
Berberat studied medicine in Berne (Switzerland) und Los Angeles (USA) and completed his training as a general surgeon in Berne, Boston (USA) and Heidelberg. He acquired his postdoctoral teaching qualification (habilitation) in 2007 in Heidelberg before taking up the position of consultant surgeon at Klinikum rechts der Isar. He has subsequently obtained a master's degree in Medical Education (Heidelberg) and headed TUM Medical School´s Medical Education Center since 2010. In 2015 Berberat was appointed to TUM's newly established Chair for Medical Education. Since 2017 he serves as the TUM School of Medicine´s second Dean of Studies. His responsibility is the curriculum and study program development.
Key Publications
Kadmon M, Ganschow P, Gillen S, Hofmann HS, Braune N, Johannink J, Kühn P, Buhr HJ, Berberat PO: "The competent surgeon. Bridging the gap between undergraduate final year and postgraduate surgery training". Chirurg. 2013; 84(10): 859-68.
Abstract
Berberat PO, Harendza S, Kadmon M; "Entrustable professional activities - visualization of competencies in postgraduate training. Position paper of the Committee on Postgraduate Medical Training of the German Society for Medical Education (GMA)". GMS Z Med Ausbild. 2013; 30(4): Doc47.
Abstract
Schneider A, Karsch-Völk M, Rupp A, Fischer MR, Drexler H, Schelling J, Berberat P.: "Predictors of a positive attitude of medical students towards general practice - a survey of three Bavarian medical faculties." GMS Z Med Ausbild. 2013; 30(4): Doc45.
Abstract
Kadmon M, Busemann A, Euteneier A, Gawad K, Gröne J Berberat P: "Modular Postgraduate Training in Surgery - A National Concept with a Future". Zentralblatt für Chirurgie. 2012; 137(2):138-43.
Abstract
Berberat PO, de Wit NJ, Bockhorn M, Lundell L, Drenth JP.: "Training innovations in gastroenterology and educational resources: A new vision of gastrointestinal education across europe." Eur J Gastroenterol Hepatol. 2010; 22(10): 1393-6.
Abstract