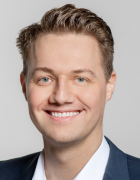 Academic Career and Research Areas
Prof. Betz (*1988) Research area is the field of software development for autonomous vehicles. By developing new algorithms in environment perception, path and behavior planning, and conrol, these vehicles will be able to interact with each other and with humans while acting safely, efficiently, and with high performance. With these innovative algorithms, it will be possible to efficiently and effectively make the right decisions in the autonomous system, especially in complex and uncertain environments. For the data generation and validation of these algorithms, simulation environments and various real vehicle platforms are used.
Prof. Betz studied automotive engineering at Coburg University of Applied Sciences (B. Eng., 2013) and at University of Bayreuth (M. Sc., 2013). From 2013 to 2018, Johannes was a PhD student at TUM (PhD, 2019). From 2018-2020 he was a postdoc at the Chair of Automotive Engineering at TUM where he founded the TUM Autonomous Motorsport Team, which successfully participated in various autonomous racing series. From 2020 to 2022, he was a postdoc at the University of Pennsylvania, USA, where he worked in the xLab for Safe Autonomous Systems. In 2023, he was appointed as Rudolf Mößbauer Professor at TUM to the Chair of Autonomous Vehicle Systems.
Awards
IEEE ITS Young Professional Travel Fellowship (2022)
1st Place, Indy Autonomous Challenge (1 Million $ Grand Prize - with TUM Autonomous Motorsport) (2021)
Best Paper Award, IEEE CiSt 2020, Agadir, Morocco (2020)
Young Author Award, IFAC IAV 2019, Gdansk, Poland (2019)
1st Place, Roborace "Human + Machine Challenge" (with TUM Autonomous Motorsport) (2018)
J. Betz et al. "Autonomous vehicles on the edge: A survey on autonomous vehicle racing" IEEE Open Journal of Intelligent Transportation Systems, vol. 3., pp. 458–488 2022.
Abstract
J. Betz et al., "TUM autonomous motorsport: An autonomous racing software for the Indy Autonomous Challenge," Journal of Field Robotics. Wiley, Jan. 12, 2023.
Abstract
M. Geisslinger, F. Poszler, J. Betz, C. Luetge and M. Lienkamp "Autonomous Driving Ethics: from Trolley Problem to Ethics of Risk" Philosophy & Technol. 34, 1033–1055 (2021).
Abstract
T. Stahl and J. Betz: "An Open-Source Scenario Architect for Autonomous Vehicles" 2020 Fifteenth International Conference on Ecological Vehicles and Renewable Energies (EVER), 2020.
Abstract
T. Herrmann, A. Wischnewski, L. Hermansdorfer, J. Betz and M. Lienkamp, "Real-Time Adaptive Velocity Optimization for Autonomous Electric Cars at the Limits of Handling," in IEEE Transactions on Intelligent Vehicles, vol. 6, no. 4, pp. 665-677, Dec. 2021.
Abstract