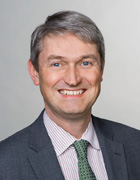 Prof. Dr. Tilo Biedermann
Academic Career and Research Areas
The research of Professor Biedermann focuses on the biology of the skin, immunology and allergology. His research deals with the regulation of tolerance-promoting and inflammatory immune responses. His research activities range from basic research to translating his findings into clinical applications.
Professor Biedermann studied medicine at LMU Munich where he also completed his training leading to German medical board certification in dermatology and allergology. During this time he joined the immunology research group of Professor Röcken. As a recipient of a DFG grant he then went to Vienna where he acquired his postdoctoral teaching qualification (habilitation) in 2001. In 2003 he was appointed to a C3 professorship position in the Department of Dermatology at the University Hospital of Tübingen where he stayed until 2014. Professor Biedermann was appointed to his current chair position at TUM in 2013. He jointly acted as spokesperson of the DFG priority program 1394 "Mast-cells – promoters of Health and Modulators of disease" (2009–2017) with Markus Maurer (Berlin). From 2011–12, he served as president of the European Society of Dermatological Research (ESDR) and has been secretary general of the German Dermatological Society (DDG) since 2017.
Awards
Alfred Marchionini Research Award (2011)

Award for Translational Research in Dermatology (2008)

Main Immunotherapy Research Award (2005)
Key Publications
Kaesler S, Skabytska, Y, Chen, K.M, Kempf, WE, Volz, T, Köberle, M, Wölbing F, Hein U, Hartung, T, Kirschning C, Röcken M. Biedermann T: "Staphylococcus aureus-derived lipoteichoic acid induces temporary T-cell paralysis independent of Toll-like receptor 2". J Allergy Clin Immunol. 2016; 138: 780-790.
Abstract
Guenova E, Skabytska Y, Hoetzenecker W, Weindl G, Sauer K, Tham M, Kim KW, Park JH, Seo JH, Ignatova D, Cozzio A, Levesque MP, Volz T, Köberle M, Kaesler S, Thomas P, Mailhammer R, Ghoreschi K, Schäkel K, Amarov B, Eichner M, Schaller M, Clark RA, Röcken M*, Biedermann T*: "IL-4 abrogates T(H)17 cell-mediated inflammation by selective silencing of IL-23 in antigen-presenting cells". Proc Natl Acad Sci USA. 2015; 112: 2163-2168. *co-corresponding authors
Abstract
Kaesler S, Volz T, Skabytska Y, Koeberle, M, Hein U, Chen K-M, Guenova E, Woelbing F, Roecken, M, Biedermann T: "Toll-like receptor 2 ligands promote chronic atopic dermatitis through IL-4-mediated suppression of IL-10". J Allergy Clin Immunol. 2014; 134 (1): 92-99.
Abstract
Skabytska Y, Wölbing F, Günther C, Köberle M, Kaesler S, Chen KM, Guenova, E, Demircioglu D, Kempf W, Volz T, Rammensee H-G, Schaller M, Röcken M, Götz F, Biedermann T: "Cutaneous Innate Immue Sensing of Toll-like Receptor 2-6 Ligands Suppresses T Cell Immunity by inducing Myeloid-Derived Suppressor Cells". Immunity. 2014; 41(5): 762-75.
Abstract
Hoetzenecker W, Echtenacher B, Guenova E, Hoetzenecker K, Woelbing F, Brück J, Teske A, Valtcheva N, Fuchs K, Kneilling M, Park JH, Kim KH, Kim KW, Hoffmann P, Krenn C, Hai T, Ghoreschi K, Biedermann T*, Röcken M*: "ROS-induced ATF3 causes susceptibility to secondary infections during sepsis-associated immunosuppression". Nat Med. 2012; 18(1): 128-134. *co-corresponding authors
Abstract