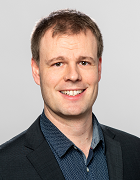 Prof. Dr. Gerd Patrick Bienert
Academic Career and Research Areas
The main research objectives of Prof. Bienert (b. 1978) are to understand metalloid- and water efficiency mechanisms in crops. To this aim functions, transport pathways and regulatory networks of metalloids and water are studied in plants. A particular focus is on transcriptional, developmental and signalling response reactions to metalloid/water deficiency and metalloid toxicity. Prof. Bienert's research targets the understanding of the physiology of plants down to the structure and function of genes and proteins as well as relevant mechanisms, which allow optimizing biotechnologically and agriculturally important quality and yield traits and the generation of crops, which are beneficial for the society in terms of food-security and food-safety.
Prof. Bienert studied biology at the Universities of Würzburg and Darmstadt. Following this, he did his PhD studies with Jan Schjoerring in Copenhagen. He then moved on to be a postdoctoral researcher in François Chaumont's lab at UCLouvain. Since 2013, he was supported by the Emmy Noether program of the German Research Foundation (DFG) and headed an independent research group at the Leibniz Institute of Plant Genetics and Crop Plant Research in Gatersleben. He has been Professor for Crop Physiology at the TUM since 2020.
Awards
Emmy Noether Fellowship, German Research Foundation (2013)

Chargé de Recherches, Belgian National Funds of the Scientific Research (2011-2013)

Marie Curie Fellowship (2009-2011)
Pommerrenig B, Diehn TA, Bernhardt N, Bienert MD, Mitani-Ueno N, Fuge J, Bieber A, Spitzer C, Bräutigam A, Ma JF, Chaumont F, Bienert GP "Functional evolution of Nodulin 26-like Intrinsic Proteins: From bacterial arsenic detoxification to plant nutrient transport". New Phytologist. 2020; 225(3): 1383-1396.
Abstract
Diehn TA, Bienert MD, Pommerrenig B, Liu Z, Spitzer C, Bernhardt N, Fuge J, Bieber A, Richet N, Chaumont F, Bienert GP "Boron demanding tissues of Brassica napus express specific sets of functional Nodulin26-like Intrinsic Proteins and BOR1 transporters". Plant Journal. 2019; 100(1): 68-82.
Abstract
Bienert MD, Muries B, Crappe D, Chaumont F, Bienert GP "Overexpression of X Intrinsic Protein 1;1 in Nicotiana tabacum and Arabidopsis reduces boron allocation to shoot sink tissues". Plant Direct. 2019; 3(6): e00143.
Abstract
Pommerrenig B, Junker A, Sanchez Abreu I, Bieber A, Fuge J, Willner E, Bienert MD, Altmann T, Bienert GP "Identification of rapeseed (Brassica napus) cultivars with a high tolerance to boron deficient conditions". Frontiers in Plant Science. 2018; 9:1142.
Abstract
Bienert GP, Thorsen M, Schüssler MD, Nilsson HR, Wagner A, Tamás MJ, Jahn TP "A subgroup of Nodulin26-like intrinsic proteins facilitate the bi-directional diffusion of As(OH)3 and Sb(OH)3 across membranes". BMC Biology. 2008; 6:26.
Abstract