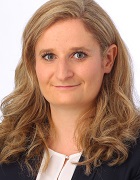 Academic Career and Research Areas
Miriam Bird is associate professor of Entrepreneurship and Family Enterprise since 2020 at the TUM School of Management, TUM Campus Heilbronn. As director she is also leading the Global Center for Family Enterprise (GCFE). In her research, Miriam Bird focuses on topics such as company succession, innovation and strategy in family firms. In particular, she is interested in understanding better the social context, in which enterprises are embedded in.
Miriam Bird earned her PhD in 2014 at the Department of Management at the Stockholm School of Economics. Her dissertation topic dealt with the influence of family on entrepreneurial outcomes. In the course of her PhD studies, Miriam Bird was visiting researcher at McGill University, University of Alberta and HEC Montréal. After earning her PhD, she was assistant professor and operative director at the Global Center for Entrepreneurship and Innovation at the University of St. Gallen (2015-2020). In August 2019, she received the "venia legendi" (i.e., habilitation) for business administration. Her research won several prestigious international awards and has been featured in various media outlets and business magazines. Her last research grant on the topic of entrepreneurial teams was categorized as "excellent" research contribution by the Swiss National Science Foundation (SNSF).
Awards
Research grant evaluated as excellent contribution, Swiss National Science Foundation (2019)
Academy Best Paper Proceedings, Academy of Management (2015, 2017)
Best Doctoral Dissertation Award, Family Firm Institute (2015)
Carolyn Dexter Award, Academy of Management (2015)
Nomination for Best Research Paper, IFERA (2015)
Key Publications
Querbach S, Bird M, Kraft PS, Kammerlander N: "When the Former CEO Stays on Board: The Role of the Predecessor's Board Retention or Product Innovation in Family Firms". Journal of Product Innovation Management. (forthcoming)
Abstract
Bird M, Zellweger T: "Relational Embeddedness and Firm Growth: Comparing Spousal and Sibling Entrepreneurs". Organization Science. 2018; 29 (2): 264-283.
Abstract
Bird M, Wennberg K. "Why Family Matters: The Impact of Family Resources on Immigrant Entrepreneurs' Exit from Entrepreneurship". Journal of Business Venturing. 2016; 31 (6): 687-704.
Abstract
Bird M, Wennberg K. "Regional Influences on the Prevalence of Family versus Non-Family Start-Ups". Journal of Business Venturing. 2014; 29(3): 421-436.
Abstract
Wiklund J, Nordqvist M, Hellerstedt K, Bird M: "Internal versus External Ownership Transition in Family Firms: An Embeddedness Perspective". Entrepreneurship Theory and Practice. 2013; 37 (6): 1319-1340.
Abstract