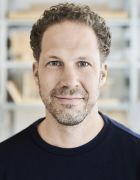 Academic Career and Research Areas
Prof. Stephan Birk's (*1975) field of research is the design and construction with timber and wood-based materials. The focus is on removing restrictions, identifying new potentials of bio-based building materials and further developing the possible uses of modern timber construction methods. The central question is how the change in the construction industry towards resource efficiency with high architectural qualities can be carried out.
Prof. Stephan Birk completed his architectural studies at University of Stuttgart, where he graduated in 2003. He worked as a research assistant for Prof. Peter Cheret and as a deputy professor at the Institute for Building Construction and Design at the University of Stuttgart. 2015 he was appointed as full professor at the Technical University of Kaiserslautern, where he has led the Department of Building Construction and Design. 2021 Prof. Stephan Birk was appointed to the professorship for Architecture and Timber Construction at TUM.
Awards
Deutscher Hochschulbaupreis (2022)

BDA Hugo-Häring Landespreis (2021)

Deutscher Architekturpreis – Anerkennung (2021)

Förderpreis Nordrhein-Westfalen für junge Künstlerinnen und Künstler (2011)

EUROPE 40 UNDER 40, Europe's emerging young architects and designers (2010)
Graf J, Birk S et al. (2022) Kreislaufeffektive Bauwende - Auf dem Weg zu einer neuen Tektonik. Bautechnik 99, Sonderheft Holzbau, Ausgabe 2, S. 76-84 (Peer reviewed)
Abstract
Graf J, Birk S et al. (2022) Kreislaufeffektives Potenzial von Holz im Hallenbau. Bautechnik 99, Sonderheft, Ausgabe 1, S. 2-12 (Peer reviewed)
Abstract
Birk S, Graf J (2021) Effizienzrevolution; DBZ 02/2021, S. 34-35.
Abstract
Birk S (2017) Schule besser in Holz. Bauen mit Holz 05/2017, S. 16-23.
Abstract
Birk S, Helbig T et al. (2010) Filigrane Aussicht - Jübergturm in Hemer. Bauen mit Holz 11/2010, S.12-16.