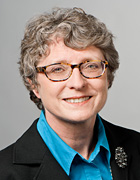 Academic Career and Research Areas
Prof. Bitsch conducts research in the fields of agricultural economics and agribusiness management. Her research focuses on sustainability and its assessment in the value chain, with emphasis on social sustainability, organizational behavior and development, human resource management, as well as strategic management.
Prof. Bitsch studied horticultural science at Leibniz University Hannover. For her doctorate, she analyzed performance ratios in horticulture. During her post-doctoral research at Hannover, she researched management skills, strategic management, and management of personnel, including job satisfaction and motivation. Her habilitation on qualitative research in management and economics made an essential contribution to the further development of the methodology discussion in that field. In 2000, Prof. Bitsch accepted an assistant professor position at Michigan State University. In 2006, she was promoted to associate professor with tenure. Her roles involved research, teaching, and extension in the area of human resource management in agriculture. She joined TUM in 2010.
Awards
Honorary Doctorate, Swedish University of Agricultural Science (2018)
Best Paper Award, International Food and Agribusiness Management Association, together with Meike Rombach for "Sector Blending: Evidence from the German Food Banks" (2017)
Best Poster Award, Gesellschaft für Wirtschafts- und Sozialwissenschaften des Landbaus, together with Jan Alpmann for "Milk Conflict and Resulting Association Structures – Economic and Emotional Impacts of Market Liberalization" (in German) (2013)
Award for Professional Excellence – Distinguished Extension/Outreach Program, Agricultural and Applied Economics Association, USA (2008)
Excellence in Outreach Award, Department of Agricultural, Food, and Resource Economics, Michigan State University, USA (2006)
Carlson L, Bitsch V: "Social sustainability in the ready-made garment sector in Bangladesh: An institutional approach to supply chains". International Food and Agribusiness Management Review. 2018; 21 (2): 269-292.
Abstract
Rombach M, Bitsch V: "Sector blending: evidence from the German Food Bank". International Food and Agribusiness Management Review. 2018; 21 (2): 181-200.
Abstract
Hermsdorf D, Rombach M, Bitsch V: "Food waste reduction practices in German food retail". British Food Journal. 2017; 119 (12): 2532-2546.
Abstract
Alpmann J, Bitsch V: "Dynamics of asymmetric conflict: the case of the German milk conflict". Food Policy. 2017; 16 (1): 62-72.
Abstract
Bitsch V: Sustainability as Innovation: "Challenges and Perspectives in Measurement and Implementation. In: Huyghe C, Bergeret P, Svedin U (Editors): "Diffusion and Transfer of Knowledge in Agriculture". Editions Quae. 2016: 15-20.
Abstract