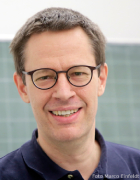 Academic Career and Research Areas
Prof. Briesen's (*1971) research involves the transfer and new development of process systems engineering concepts for food and beverage technology and biological processes. Insight derived from models combining mathematical and computer science techniques with the latest process expertise serves to develop new and optimize existing products and processes.
Prof. Briesen studied chemical engineering at the University of Karlsruhe and the University of Cincinnati from 1992 to 1997. He went on to earn his doctorate at the Chair of Process Systems Engineering at RWTH Aachen (Prof. Marquardt), receiving his doctoral degree in 2002 and his post-doctoral teaching qualification in 2008. Between 2007 and 2008, Prof. Briesen headed the Population Dynamics junior research group at the Max Planck Institute for Dynamics of Complex Technical Systems in Magdeburg. He has been a full professor at TUM since November 2008.
Awards
Award for good teaching by the Bavarian State Ministry for Science and Art (StMWK) (2020)
Wissenschaftspreis der Stadt Freising (2011)
Borchers-Medaille der RWTH Aachen (2002)
Stipendiat der Studienstiftung des Deutschen Volkes (1994-1997)
Kuhn M, Lang S, Bezold F, Minceva M, Briesen H: "Time-resolved extraction of caffeine and trigonelline from finely-ground espresso coffee with varying particle sizes and tamping pressures". Journal of Food Engineering. 2017; 206: 37-47.
Abstract
Greiner M, Sonnleitner B, Melaender M, Briesen H: "Modeling complex and multi-component food systems in molecular dynamics simulations on the example of chocolate conching". Food & Function. 2014; 5(2): 235-242.
Abstract
Kovacevic T, Reinhold T, Briesen, H: "Identifying Faceted Crystal Shape from Three-Dimensional Tomography Data". Crystal Growth & Design, 2014;14 (4): 1666-1675.
Abstract
Greiner M, Elts E, Briesen H: "Insights into Pharmaceutical Nanocrystal Dissolution: A Molecular Dynamics Simulation Study on Aspirin". Molecular Phamaceuticals. 2014; 11 (9): 3009-3016.
Abstract
Briesen H: "Simulation of crystal size and shape by means of a reduced two-dimensional population balance model". Chem. Eng. Sci. 2006; 61: 104-112.
Abstract