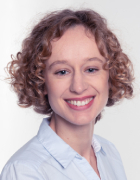 Prof. Dr. Livia Cabernard
Academic Career and Research Areas
Livia Cabernard's research is dedicated to advancing sustainability in global food and agricultural supply chains. Her work combines supply chain analysis, life-cycle assessment, earth observation data, and integrated assessment models to create high-resolution models of global agri-food supply chains with comprehensive environmental impact assessment and scenario analysis. Her research provides novel insights into the hotspots and levers in the global agri-food supply chains to provide sustainable decision support for industry and policy.
Livia Cabernard, born in Switzerland in 1991, has studied environmental sciences at ETH Zurich from 2011 to 2017. She completed her PhD studies in sustainability assessment of global supply chains at the interdisciplinary interface of the Institute of Environmental Engineering and the Institute of Science, Technology, and Policy at ETH Zurich from 2017 to 2021. After continuing her research as a postdoct at ETH Zürich, she was appointed to the newly created chair in Sustainability Assessment of Food and Agricultural Systems at TUM in 2023.
Awards
ETH medal for outstanding doctoral thesis (2023)
Winner of ecoinvent sustainability assessment visualization contest (2022)
Cabernard, L., Pfister, S., Oberschelp, C., & Hellweg, S. (2022). Growing environmental footprint of plastics driven by coal combustion. Nature Sustainability, 5(2), 139-148.
Abstract
Cabernard, L., & Pfister, S. (2022). Hotspots of Mining-Related Biodiversity Loss in Global Supply Chains and the Potential for Reduction through Renewable Electricity. Environmental Science & Technology, 56(22), 16357-16368.
Abstract
Cabernard, L., Pfister, S., & Hellweg, S. (2022). Improved sustainability assessment of the G20's supply chains of materials, fuels, and food. Environmental Research Letters, 17(3), 034027.
Abstract
Cabernard, L.; Pfister, S. (2021). A highly resolved MRIO database for analyzing environmental footprints and Green Economy Progress. Science of The Total Environment, 142587.
Abstract
Cabernard, L.; Pfister, S.; Hellweg, S. (2019). A new method for analyzing sustainability performance of global supply chains and its application to material resources. Science of the Total Environment 2019, 684, 164-177.
Abstract