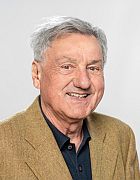 Apl. Prof. Dr. Domenico Castrigiano
Academic Career and Research Areas
The research of Prof. Castrigano (*1946) concerns group representation, catastrophe theory, regularity of topological measures, orthogonal polynomials and subnormal operators, cyclicity of unbounded multiplication operators, unbounded Wiener-Hopf operators. Regarding mathematical physics it deals with computation of path integrals in physical applications, determination of the spectrum of a charged oscillator coupled to the radiation field, a fundamental investigation on localization and causality in relativistic quantum mechanics.
Prof. Castrigiano studied physics at the Ludwigs-Maximilians-Universität München. After his PhD in theoretical physics 1977, he changed to the TUM, where 1988 he acquired the habilitation in mathematics. In 2000 he became apl. Prof. at the TUM. Since 2011 he is retired.
Zaigler, S.; Castrigiano, D.P.L.: "Cyclicity for Unbounded Multiplication Operators in Lp- and Co-Spaces". Ann. Funct. Anal. 2015; 6(2): 33-48.
Abstract
Castrigiano, D.P.L.: Leiseifer, A.D.: "Causal Localizations in Relativistic Quantum Mechanics". J. Math. Phys. 2015; 56: 07231. DOI 10.1063/1.4923196.
Abstract
Betz, V.; Castrigiano, D.P.L.: "Effective Density of States for a Quantum Oscillator Coupled to a Photon Field". Commun. Math. Phys. 2011; 301(3): 811-839.
Abstract
Castrigiano, D.P.L., Roelcke, W.: "Topological Measures and Weighted Radon Measures". Oxford: Alpha Science International Ltd., 2008.
Abstract
Castrigiano, D.P.L., Hayes, S. A., Foreword by René Thom: "Catastrophe Theory". 2nd Ed. Boulder: Westview Press (Perseus Books Group) Advanced Book Program, 2004.
Abstract