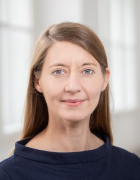 Prof. Annette Diefenthaler
Academic Career and Research Areas
Prof. Annette Diefenthaler's research focuses on the value of non-linear approaches to problems: Her work experiments with the development of metrics to understand progress and results such approaches create. This is based on the hypothesis that design has become increasingly formulaic, limiting the space for unknowns and creative exploration. With these pursuits, she aims to expand beyond primarily economic metrics such as stakeholder value and revenue, to develop a sophisticated understanding of the social and regenerative impact of design.
Annette studied design at Köln International School of Design, the University of Applied Sciences in Schwäbisch Gmünd, and the University of Western Sydney. From 2008 to 2022, she worked at internationally renowned design firm IDEO in Munich, New York and San Francisco. She has been a board member of the iF Design Foundation since June 2021. Since 2023, she is Professor of Design and Transdisciplinarity at the TUM School of Engineering and Design. She is also the Executive Director of the newly founded Munich Design Institute.
Key Publications
Diefenthaler, Annette: "Design and the American Education System". In: Designing Design Education. Weißbuch zur Zukunft der Designlehre. Hg. von Christoph Böninger, Fritz Frenkler und Susanne Schmidhuber für die iF Design Foundation. Stuttgart: avedition, 2021: Seite 163-173.
Abstract
Bear, Charla, Cerminaro, Deirdre, Diefenthaler, Annette, Moorhead, Laura, Speicher, Sandy: Thinking & Acting Like A Designer: How design thinking supports innovation in K-12 education. Quatar: WISE / Qatar Foundation, 2017.
Abstract
Diefenthaler, Annette, Sitkin, Ellen, Speicher, Sandy: Design Thinking Toolkit For Educators. New York City/ San Francisco: Riverdale Country School/IDEO, 2011.
Abstract