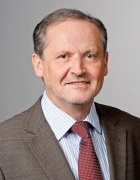 Prof. Dr. Karl-Heinz Engel
Academic Career and Research Areas
Prof. Engel's (b. 1954) research centers on analytical assessment of food safety and food authenticity. His main areas of expertise are the analysis of chiral flavor compounds, the use of coupled chromatography techniques to analyze minor lipids and metabolite profiling of plant matrices.
After studying food chemistry at TU Karlsruhe, he completed his doctorate in 1983 at TU Berlin. He received a German Research Foundation (DFG) scholarship to undertake research in the USA. He returned to TU Berlin to complete his university lecturer qualification (1993). Prior to his appointment as full professor at TUM, he was director and professor of the "Novel Foods and Genetic Engineering" section at the Federal Institute for Health Protection of Consumers and Veterinary Medicine in Berlin. Prof. Engel is involved with the European Food Safety Authority where he works on assessing the risk of flavorings and novel foods.
Key Publications
Nörenberg S, Kiske C, Reichardt B, Andelfinger V, Pfeiffer A, Schmidts F, Eisenreich W, Engel KH: "Analysis and Sensory Evaluation of the Stereoisomers of a Homologous Series (C5–C10) of 4-Mercapto-2-alkanols". Journal of Agricultural and Food Chemistry. 2017; 65(40): 8913-8922.
Abstract
Scholz B, Menzel N, Lander V, Engel KH: "An approach based on ultrahigh performance liquid chromatography-atmospheric pressure chemical ionization-mass spectrometry allowing the quantification of both individual phytosteryl and phytostanyl fatty acid esters in complex mixtures". Journal of Chromatography A. 2016; 1429: 218-229.
Abstract
Scholz B, Guth S, Engel KH, Steinberg P: "Phytosterol oxidation products in enriched foods: Occurrence, exposure, and biological effects". Molecular Nutrition and Food Research. 2015; 59(7): 1339-1352.
Abstract
Frank T, Scholz B, Peter S, Engel KH: "Metabolite profiling of barley: Influence of the malting process". Food Chemistry. 2011; 124(3): 948-957.
Abstract
Barros E, Lezar S, Anttonen MJ, Van Dijk JP, Röhlig RM, Kok EJ, Engel KH: "Comparison of two GM maize varieties with a near‐isogenic non‐GM variety using transcriptomics, proteomics and metabolomics". Plant Biotechnology Journal. 2010; 8(4): 436-451.
Abstract