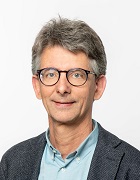 Academic Career and Research Areas
Prof. Dr. phil. Dietrich Erben (b. 1961) has held the Chair of Theory and History of Architecture, Art and Design since 2009. His main areas of research are the history of art and architecture since the early modern period. He focuses especially on political iconography, architectural theory and the history of international art relations.
Prof. Erben studied history of art, history and German language and literature at the University of Augsburg. He received his doctorate of philosophy in 1994. In 2002, he completed his lecturer qualification at the Swiss Federal Institute of Technology Zurich (Department of Architecture). From 2003 to 2009, he was professor of art history (specializing in the early modern period) at Ruhr-Universität Bochum. He has undertaken research in a number of European locations, including Paris, the German Study Center in Venice and the Kunsthistorisches Institut (Max Planck Institute) in Florence.
Awards
DFG Fellowship (1998)
Scholarship Art History Institute (Max-Planck-Institute) Florence (1995)
Scholarship German Study Center Venice (1990)
Key Publications
Erben D, Zervosen T (Editors): Das eigene Leben als ästhetische Fiktion. Berufsautobiographien und Professionsgeschichte. Bielefeld: transcript, 2018.
Abstract
Erben D (Editor): Das Buch als Entwurf. Eine Geschichte der Architekturtheorie in Textgattungen. Paderborn: Fink Verlag, 2018.
Abstract
Erben D: Architekturtheorie. Eine Geschichte von der Antike bis zur Gegenwart. München: Verlag C.H. Beck, 2017.
Abstract
Erben D, Tauber C (Editors): Politikstile und die Sichtbarkeit des Politischen in der Frühen Neuzeit. Veröffentlichungen des Zentralinstituts für Kunstgeschichte in München, Bd. 39. Passau: Dietmar Klinger Verlag, 2016.
Abstract
Erben D: Die Kunst des Barock, München: C.H. Beck, 2008
Abstract