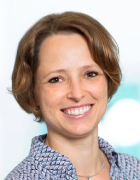 Prof. Dr. Stefanie Eyerich
Academic Career and Research Areas
Stefanie Eyerich (b. 1978) studied biology at the University of Regensburg and the LMU Munich (1998-2004). She completed her PhD at TUM (2004-2008) followed by a postdoctoral stay at Imperial College London (2008-2009). With the successful recruitment of a Helmholtz Young Investigator Group entitled 'T cell biology in health and disease', Ms. Eyerich returned to Munich and has since been conducting research at Helmholtz Zentrum München and TU München. In 2019, she was appointed to the professorship 'Functional Allergology'.
Prof. Stefanie Eyerich conducts research in the field of chronic inflammatory skin diseases, such as psoriasis and atopic eczema. Here she investigates the contribution of adaptive immune cells to the inflammatory process and decodes the misdirected communication between immune cells and tissue-derived epithelial cells. The clear focus of her research is the translation of the results to improve diagnostics and therapy.
Awards
Paul Langerhans Prize of the Working Group of Dermatological Research (2019)
WAO Henning Løwenstein Research Award of the World Allergy Organization (2015)
Robert Koch PostDoc Award of the Robert Koch Foundation (2013).
ACTERIA-EFIS Early Career Research Award in Allergology from Acteria, Switzerland, and the European Federation of Immunological Societies (EFIS) (2013).
Dr. Ernst Wiethoff Award (2012)
Thomas J*, Wang R*, Batra R, Böhner A, Garzorz-Stark N, Eberlein B, Theis F, Biedermann T, Schmidt-Weber C, Zink A, Eyerich K*, Eyerich S*. CD23 levels on B cells determine long-term therapeutic response in atopic eczema patients treated with selective IgE immune apheresis. J Invest Dermatol. 2021 Mar;141(3):681-685.e6.
Abstract
Garzorz-Stark N*, Lauffer L*, Krause L, Thomas T, Atenhan A, Franz R, Roenneberg S, Boehner A, Jargosch M, Batra R, Mueller NS, Haak S, Groß C, Groß O, Traidl-Hoffmann C, Theis F, Schmidt-Weber CB, Biedermann T, Eyerich S*, Eyerich K*. TLR7/8 agonists stimulate plasmacytoid dendritic cells to initiate a Th17-deviated acute contact dermatitis in humans. J Allergy Clin Immunol. 2018 Apr;141(4):1320-1333.e11.
Abstract
Mattii M*, Lovászi M*, Garzorz N, Atenhan A, Quaranta M, Lauffer F, Konstantinow A, Küpper M, Zouboulis CC, Kemeny L, Eyerich K, Schmidt-Weber CB, Törőcsik D*, Eyerich S*. Sebocytes contribute to skin inflammation by promoting the differentiation of Th17 cells. Br J Dermatol. 2018 Mar;178(3):722-730.
Abstract
Krause L, Mourantchanian V, Brockow K, Schmidt-Weber CB, Theis FB, Knapp B, Eyerich S#. A computational model to predict severity of atopic eczema from 30 serum parameters. J Allergy Clin Immunol. 2016 May 13. pii: S0091-6749(16)30279-2.
Abstract
Quaranta M*, Knapp B*, Pullabhatla V, Garzorz N, Mattii M, Pennino P, Andres C, Traidl-Hoffmann C, Cavani A, Theis FB, Ring J, Schmidt-Weber CB, Eyerich S*, Eyerich K*. Intra-individual genome expression analysis reveals a specific molecular signature of psoriasis and eczema. Sci Transl Med. 2014 Jul 9;6(244):244ra90.
Abstract