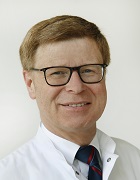 Academic Career and Research Areas
Professor Friess (b. 1962) has been the director of the Surgical Clinic and Policlinic at TUM's Klinikum rechts der Isar since 2007. His research interests include the mechanisms of molecular development and the influence of growth factors on the aggressivity of pancreatic carcinoma. He has clarified many of the molecular signal pathways that contribute to the local infiltrative growth and metastasis of this extremely malignant tumor. In multiple surgical clinical trials he has examined various surgical techniques for resection of pancreatic tumors and leads multicenter studies on adjuvant therapies.
Professor Friess completed his medical degree at the University of Ulm and acquired his postdoctoral teaching qualification (habilitation) in 1998 at the University of Bern, Switzerland. Positions as a doctor and a scientist took him to the University of California at Irvine, USA (1992 – 1993), as an intern and later as a senior physician at the Inselspital of the University of Bern (1997 – 2001) and as a senior physician at the University Hospital in Heidelberg (2001 – 2007). Professor Friess is an honorary professor at the R.E. Kavetsky Institute of Experimental Pathology, Oncology and Radiobiology of the National Academy of Science of the Ukraine. Furthermore, he is a member of the General Assembly of the United European Gastroenterology Federation (UEGF), Secretary of the European Digestive Surgery (EDS) and formerly of the European Pancreatic Club (EPC).
Awards
Dr. Hella Bühler Prize, University of Heidelberg (2005)
Laureate of the Feldbausch Foundation, Heidelberg (2003)
Quality Promotion Award for Health, Baden-Württemberg (2002)
Surgical Research Prize, Swiss Society for Surgery, Switzerland (1996)
Key Publications
Shrikhande SV, Kleeff J, Reiser C, Weitz J, Hinz U, Esposito I, Schmidt J, Friess H, Büchler MW: "Pancreatic resection for M1 pancreatic ductal adenocarcinoma". Annals of Surgical Oncology. 2007; 14(1): 118-127.
Abstract
Kleeff J, Reiser C, Hinz U, Bachmann J, Debus J, Jaeger D, Friess H, Büchler MW: "Surgery for recurrent pancreatic ductal adenocarcinoma". Annals of Surgery. 2007; 245(4): 566-572.
Abstract
Müller MW, Friess H, Kleeff J, Hinz U, Wente MN, Paramythiotis D, Berberat PO, Ceyhan GO, Büchler MW: "Middle segmental pancreatic resection: an option to treat benign pancreatic body lesions". Annals of Surgery. 2006; 244(6): 909-918.
Abstract
Seiler CA, Wagner M, Bachmann T, Redaelli CA, Schmied B, Uhl W, Friess H, Büchler MW: "Long-term results of a prospective randomized trial of pylorus-preserving duodenopancreatectomy versus classical Whipple resection". British Journal of Surgery. 2005; 92(5): 547-556.
Abstract
Neoptolemos JP, Stocken DD, Friess H, Bassi C, Dunn JA, Hickey H, Beger H, Fernandez-Cruz L, Dervenis C, Lacaine F, Falconi M, Pederzoli P, Pap A, Spooner D, Kerr DJ, Büchler MW; European Study Group for Pancreatic Cancer: "The final results of the European Study Group for Pancreatic Cancer randomized controlled trial of adjuvant chemoradiotherapy and chemotherapy in patients with resectable pancreatic cancer". The New England Journal of Medicine. 2004; 350(12): 1200-1210.
Abstract