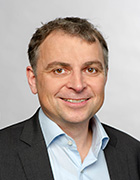 Prof. Dr.-Ing. Matthias Gaderer
Academic Career and Research Areas
The research activities of Matthias Gaderer (b. 1968) include energy systems for heat, electricity and fuels; and process and building-integrated systems using sustainable energy sources such as biomass, solar energy or geothermal energy. In particular, this research work focuses on firing technologies, gas cleaning technologies, thermochemical processes, decentralized combined heat and power plants, and the energy management of networked systems.

Gaderer studied process engineering at TU Graz and KTH Stockholm. He subsequently worked in industry on process engineering projects in Switzerland and Austria. In 1999 he took up a position at the Bavarian Center for Applied Energy Research (ZAE Bayern) in Garching, Munich, where he was instrumental in setting up a biomass research unit. After obtaining his doctorate at TUM in 2008 he was responsible for the area of decentralized energy systems and thermal biomass utilization in the Institute of Energy Systems. In 2015 Gaderer was appointed professor of regenerative energy systems at TUM Campus Straubing.
Mayerhofer M, Fendt S, Spliethoff H, Gaderer M: "Fluidized bed gasification of biomass - in bed investigation of gas and tar formation". Fuel, Elsevier. 2014; 117(B): 1248-1255.
Abstract
Tremel A, Fendt S, Becherer D, Gaderer M, Spliethoff H: "Performance of entrained flow and fluidised bed biomass gasifiers on different scales". Elsevier, Energy Conversion and Management. 2013; 69: 95-106.
Abstract
Erbel C, Mayerhofer M, Monkhouse P, Gaderer M, Spliethoff H: "Continuous in situ measurements of alkali species in the gasification of biomass, Proceedings of the Combustion Institute". Elsevier. 2013; 34(2): 2331-2338.
Abstract
Fendt S, Tremel A, Gaderer M, Spliethoff H: "The potential of small scale SNG production from biomass gasification". Biomass Conversion and Biorefinery. 2012; 2(3): 275-283.
Abstract
Gaderer M, Spliethoff H: "Thermische Nutzung von Biomasse und Reststoffen in Deutschland". Chemie Ingenieur Technik. 2011; 83(11): 1897-1911.
Abstract