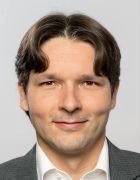 Prof. Jens Großklags, Ph.D.
Academic Career and Research Areas
Prof. Grossklags and his team pursue an interdisciplinary research and teaching agenda in the areas of security, privacy and online trust. His research studies focus on economic, behavioral and technical aspects of security and privacy. His work further explores the societal impact and policy considerations regarding emerging technologies.
Prof. Grossklags completed his doctoral dissertation at UC Berkeley's School of Information (2009). While at UC Berkeley, he also obtained master's degrees in Computer Science, and Information Management and Systems. Subsequently, he was a Postdoctoral Research Associate at the Center for Information Technology Policy, and a Lecturer of Computer Science at Princeton University. He then served as a faculty member at the Pennsylvania State University, where he was a Fellow of the Institute for Cyberscience, and held the Haile Family Early Career Professorship. Prof. Grossklags moved to the Technical University of Munich in 2017, where he is appointed as Professor of Cyber Trust (W3) at the Department of Informatics.
Awards
Invited Visiting Professorships: EPFL, IMDEA Software Institute, Copenhagen Business School, EURECOM
IEEE Symposium on Electronic Crime Research, Best Paper Award (2016), Honorable Mention Award (2017)
Senior Member - Association of Computing Machinery (2015); Senior Member - Institute of Electrical and Electronics Engineers (2015)
International Conference on Mobile Data Management, Best Paper Award (2003)
Scholar of the German National Merit Foundation - Studienstiftung des deutschen Volkes (1999-2002)
Fischer F, Xiao H, Kao C, Stachelscheid Y, Johnson B, Raza D, Furley P, Buckley N, Böttinger, K, Muntean, P, and Grossklags J: "Stack Overflow Considered Helpful! Deep Learning Security Nudges Towards Stronger Cryptography". Proceedings of the 28th USENIX Security Symposium (USENIX Security). 2019: 339-356.
Abstract
Zhao M, Grossklags J, and Liu, P: "An Empirical Study of Web Vulnerability Discovery Ecosystems". Proceedings of the 22nd ACM Conference on Computer and Communications Security (CCS). 2015: 1105-1117.
Abstract
Grossklags J, Christin N, and Chuang J: "Secure or Insure? A Game-Theoretic Analysis of Information Security Games". Proceedings of the 17th International World Wide Web Conference (WWW). 2008: 209-218.
Abstract
Acquisti A, and Grossklags J: "Privacy and Rationality in Individual Decision Making". IEEE Security and Privacy. 2005; 3(1): 26-33.
Abstract
Spiekermann S, Grossklags J and Berendt B: "E-privacy in 2nd Generation E-Commerce: Privacy Preferences Versus Actual Behavior". Proceedings of the Third ACM Conference on Electronic Commerce. 2001: 38-47.
Abstract