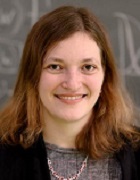 Prof. Dr. Angelika Harbauer
Academic Career and Research Areas
Prof. Harbauer (*1984) studies the metabolism of neurons, with a special focus on mitochondrial biogenesis. Even small disturbances in the energy conversion process can lead to toxic reactive oxygen species, therefore rigorous mitochondrial quality control is essential for cellular survival. If not addressed adequately, damaged mitochondria can lead to neurodegenerative diseases, most prominently Parkinson's disease. Her laboratory researches the mechanisms and signals that adapt mitochondrial output to their surroundings to ensure their functionality specifically in neurons.
Prof. Harbauer studied Molecular Medicine at the University of Freiburg and did her PhD at the Institute for Biochemistry and Molecular Biology (Prof. Meisinger). She spent 2015-2019 researching as a PostDoc in the lab of Prof. Tom Schwarz at Boston Children's Hospital /Harvard Medical School in Boston. Since September 2019, Prof. Harbauer is a Max-Planck Research Goup Leader at the MPI for Neurobiology in Martinsried. She was appointed the Professorship "Neurons and Metabolism" at the TUM in September 2019.
Awards
Howard Hughes Medical Institute/Jane Coffin Childs Memorial Fund Fellow (2015-2018)
Bayer-Healthcare-Award for the best PhD thesis in 2014, German society for Biochemistry (GBM) (2015)
Barbara-Hobom-Award to promote young women in science, BIOSS Excellence Cluster (2013)
International Research Training Group (IRTG 1478) fellow, DFG (2011-2013)
Bayerische Begabtenförderung to promote exeptionally talented students, Bavarian government (2003-2008)
Key Publications
Harbauer A.B. , Ordonez M., Cai Z., Ashrafi G., Cartoni R., Brommer B., He Z., Schwarz T.L. "PINK1 mRNA is transported with mitochondria and translated locally to support axonal mitophagy." 2019.
Abstract
Kravic B., Harbauer A.B., Romanello V., Simeone L., Vögtle F.N., Kaiser T., Straubinger M., Huraskin D., Böttcher M., Cerqua C., Martin E.D., Poveda-Huertes D., Buttgereit A., Rabalski A.J., Heuss D., Rudolf R., Friedrich O., Litchfield D., Marber M., Salviati L., Mougiakakos D., Neuhuber W., Sandri M., Meisinger C., Hashemolhosseini S.: "In mammalian skeletal muscle, phosphorylation of TOMM22 by protein kinase CSNK2/CK2 controls mitophagy". Autophagy. 2018.
Abstract
Harbauer A.B.: "Mitochondrial health maintenance in axons" Biochemical Society Transactions. 2017; 45 (5): 1045-1052.
Abstract
Harbauer A.B., Opalińska M., Gerbeth C., Herman J.S., Rao S., Schönfisch B., Guiard B., Schmidt O., Pfanner N., Meisinger C.: "Mitochondria. Cell cycle-dependent regulation of mitochondrial preprotein translocase." Science. 2014; 346 (6213): 1109-1113.
Abstract
Schmidt O., Harbauer A.B., Rao S., Eyrich B., Zahedi R.P., Stojanovski D., Schönfisch B., Guiard B., Sickmann A., Pfanner N., Meisinger C.: "Regulation of mitochondrial protein import by cytosolic kinases." Cell. 2011; 144 (2): 227-239.
Abstract