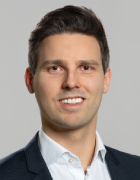 Prof. Dr. Jochen Hartmann
Academic Career and Research Areas
Jochen Hartmann's research is located at the junction of digital marketing and machine learning, with a focus on unstructured data analytics (computer vision, natural language processing) and generative artificial intelligence (AI). Broadly, his substantive research interests include social media, multi-modal digital advertising, algorithmic fairness, diversity in advertising, and human-machine interactions. His papers on text and image mining belong to the most read and cited papers at top-tier marketing journals, including International Journal of Research in Marketing and Journal of Marketing Research. In addition, he has co-authored book chapters on machine learning and natural language processing.
Jochen Hartmann joined TUM School of Management at the Munich Campus in January 2023. Before that, he was Assistant Professor at the Faculty of Economics and Business at the University of Groningen. He obtained his PhD at the University of Hamburg. From 2019 to 2022, he coordinated the DFG research unit (FOR 1452). Before his doctoral studies, he worked as a management consultant at McKinsey & Company. Jochen Hartmann is a regular visiting scholar at Columbia Business School and adjunct faculty for Machine Learning and Data Mining at Mannheim Business School.
Awards
EMAC-Sheth Foundation Sustainability Award
Best Dissertation Award by EHI Foundation and GS1 Germany
Best Dissertation Award by BVM/VMÖ/SWISS INSIGHTS
Professor Herbert Jacob Best Dissertation Award
"Young Economist" at Lindau Nobel Laureate Meetings on Economic Sciences 2022
J. Hartmann, M. Heitmann, C. Schamp, O. Netzer: The power of brand selfies. Journal of Marketing Research 58 (6), 1159-1177 (2021).
Abstract
J. Hartmann, J. Huppertz, C. Schamp, M .Heitmann: Comparing automated text classification methods. International Journal of Research in Marketing 36 (1), 20-38 (2019).
Abstract
J. Hartmann, M. Heitmann, C. Siebert, C. Schamp: More than a feeling: Accuracy and application of sentiment analysis. International Journal of Research in Marketing. 40 (1), 75-87 (2023).
Abstract