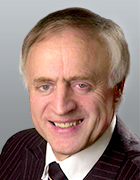 Prof. Dr. Alois Heißenhuber
Academic Career and Research Areas
The focus of Professor Heißenhuber's research is process and operation optimization based on economical and ecological criteria (production and environmental management), as well as the analysis of agri-environmental political measures relating to their effects on the resources in rural areas (land-use and regional management).
Professor Heißenhuber studied agricultural sciences at TUM (1970-1974), majoring in economics and social science. In 1975 he completed a supplementary course of studies in education. After obtaining his doctorate at TUM in 1982, a research post took him to Japan. He subsequently returned to TUM where he acquired his postdoctoral teaching qualification in agricultural economics in 1989. He has held the Chair of Agricultural Economics at TUM since 1996. Professor Heißenhuber was a member of the Scientific Advisory Board for the Agricultural Policy of BMELV in Bonn/Berlin. Furthermore, he was the Director of the Scientific Board of Trustees of the Bavarian Academy of Rural Areas in Munich. He is also on the Editorial Board of the journal "Agricultural Economics" based in Prague and on the Agricultural Expert Panel (KLU) at Federal Environmental Protection Agency Dessau - Berlin (UBA).
Awards
Johann-Heinrich-von-Thünen-Medal (gold), Christian-Albrechts-Universität zu Kiel (2015)
Bavarian State Medal in Silver of the Bavarian Ministry of Food, Agriculture and Forestry in Munich (2013)
Hans Kudlich Award of the Ecosocial Forum in Vienna, Austria (2010)
Honorary doctorate from Trakia University in Stara Zagora, Bulgaria (2003)
Fellow of the German National Merit Foundation (Studienstiftung des deutschen Volkes) (1972-1974)
Buckwell A, Heißenhuber A, Blum W et al.: "The Sustainable Intensification of European Agriculture". A review sponsored by RISE Foundation. Bruxelles, 2014: 1-98.
Abstract
Birner R, Bitsch V, Heißenhuber A, Lippert C ,Spiller A, Schulze-Pals, Gandorfer M, Zühlsdorf A: "Brauchen wir eine post-autistische Agrarökonomie?". Schriften d. Gesellschaft f. Wirtschafts- u. Sozialwissenschaften d. Landbaues e.V. 2013; 48: 335-351.
Heissenhuber A: Anregungen für eine Agrarökonomie, die der Gesellschaft dient. AGRA-EUROPE - Länderberichte (Sonderbeilage). 2013; 49 (13): 1-4.
Heissenhuber A, Leitner H: "Nachhaltige Landnutzung". In: Agrarethik - Landwirtschaft mit Zukunft, Themenbibliothek Ökonomie. Editor: Meier U. 2012: 133-147.
Zehetmeier M, Baudracco J, Hoffmann H, Heissenhuber A: "Does increasing milk yield reduce greenhouse gas emissions? A system approach". Animal. 2011; 6 (1): 154-166.