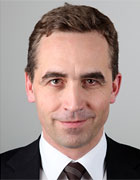 Academic Career and Research Areas
Prof. Hemmer (b. 1963) has been Director of the Neurology Clinic at TUM's rechts der Isar clinic since 2007. He specializes in the field of neuroimmunology. His work focuses on research into B-cells and T-cells in inflammatory diseases of the central nervous system, especially multiple sclerosis (MS). Furthermore, he is investigating genetic factors relevant to the development and treatment of MS.
After studying human medicine, Prof. Hemmer obtained his doctorate at the University of Freiburg in 1991. He worked at the National Institutes of Health in Bethesda, USA, in 1995 thanks to a German Research Foundation (DFG) grant. He obtained his specialist medical training at the university hospitals in Freiburg and Marburg. He worked as a senior physician in Marburg and as Deputy Clinic Director in Düsseldorf. Since 2007, Prof. Hemmer has been professor of neurology at TUM. He is on the board of the disease-oriented Competence Network Multiple Sclerosis, the medical advisory board of the German Multiple Sclerosis Society, the excellence cluster SyNery and the EU project MultipleMS. He has been a member of the executive committee of the European Committee for Treatment and Research in Multiple Sclerosis since 2012 and has been its president since 2018.
Awards
Sobek Research Prize (2013)
Heisenberg Fellowship (2001)
Heinrich Pette Award of the German Neurological Society (2000)
Langheinrich Prize (1998)
Key Publications
Srivastava R, Aslam M, Kalluri SR, Schirmer L, Buck D, Tackenberg B, Rothhammer V, Chan A, Gold R, Berthele A, Bennett JL, Korn T, Hemmer B: "The Potassium Channel KIR4.1 as an Immune Target in Multiple Sclerosis". The New England Journal of Medicine. 2012; 367: 115-23.
Abstract
Bennett JL, Lam C, Kalluri SR, Saikali P, Bautista K, Dupree C, Glogowska M, Case D, Antel JP, Owens GP, Gilden D, Nessler S, Stadelmann C, Hemmer B : "Intrathecal Pathogenic Anti–Aquaporin-4 Antibodies in Early Neuromyelitis Optica". Ann Neurol. 2009; 66(5): 617-629.
Abstract
Cepok S, Zhou D, Srivastava R, Grummel V, Büssow K, Nessler S, Sommern N, Hemmer B: "Identification of Epstein-Barr-Virus proteins as putative targets of the immune response in multiple sclerosis". J. Clin. Invest. 2005; 115: 1352-1360.
Abstract
Hemmer B, Gran B, Zhao Y, Marques A, Pinilla C, Pascal J, Tzou A, Kondo T, Cortese I, Bielekova B, Straus S, McFarland HF, Houghten R, Simon R, Martin R: "Identification of candidate T-cell epitopes and molecular mimics in chronic Lyme disease". Nature Medicine. 1999; 5(12): 1375-1382.
Abstract
Hemmer B, Fleckenstein BT, Vergelli M, Jung G, McFarland HF, Martin R, Wiesmüller KH: "Identification of high potency microbial and self ligands for a human autoreactive class-II restricted T cell clone". Journal of Experimental Medicine. 1997; 185(9): 1651-1660.
Abstract