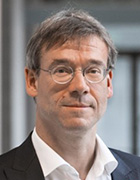 Prof. Dr.-Ing. Kai-Olaf Hinrichsen
Academic Career and Research Areas
Prof. Hinrichsen (b. 1968) researches in the field of industrial catalysis at the interface between natural science and engineering science. His research work is oriented along the process chain, starting from particle design through reactor design to process design. Particular focus is placed on particle technology and catalyst forming as well as multi-scale modeling. In the latter discipline, research is centered on describing chemical reactions at the elementary stage, the numerical simulation and modeling of chemical reactors with respect to their apparatus design, dimensioning and operating characteristics.
After studying power engineering and process technology at TU Berlin and chemical engineering at the University of Delaware, he did his doctorate in Berlin. He completed his lecturer qualification at Ruhr-Universität Bochum (2002) and joined TUM in 2004. From 2005 to 2006, he was professor of technical chemistry at the University of Leipzig before accepting his current Chair at TUM in 2007.
Awards
Young Scientist Prize, International Association of Catalysis Societies (2000)
Jochen Block Award, German Society of Catalysis (2003)
Dozentenstipendium des Fonds der Chemischen Industrie (2004)
Koschany F, Schlereth D, Hinrichsen O: "On the kinetics of the methanation of carbon dioxide on coprecipitated NiAl(O)(x)". Applied Catalysis B-Environmental. 2016; 181: 1-13.
Abstract
Fichtl MB, Schlereth D, Jacobsen NC, Kasatkin I, Schumann J, Behrens M, Schlögl R, Hinrichsen O: "Kinetics of deactivation on Cu/ZnO/Al2O3 methanol synthesis catalysts". Applied Catalysis A: General. 2015; 502: 262-270.
Abstract
Fichtl MB, Schumann J, Behrens M, Jacobsen NC, Muhler M, Schlögl R, Hinrichsen O: "Counting of oxygen defects vs. metal surface sites in methanol synthesis catalysts by different probe molecules". Angewandte Chemie International Edition. 2014; 53: 7043-7047.
Abstract
Schlereth D, Hinrichsen O: "A fixed-bed reactor modeling study Comparison of a pseudo-continuous, heterogeneous 2D conductive monolith reactor model to a 3D CFD model". Industrial & Engineering Chemistry Research. 2014; 53: 11550-11556.
Abstract
Liu Y, Hinrichsen O: "Study on turbulence closures by standard k-ε and Reynolds stress models in CFD-PBM method for bubble column flows". Computers and Fluids. 2014; 105: 91-100.
Abstract