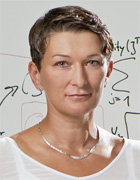 Prof. Dr.-Ing. Sandra Hirche
Academic Career and Research Areas
The research activities of Prof. Hirche focus on control engineering and system theory with particular emphasis on intelligent human-centered, cooperative and networked cyber-physical systems. She develops novel analysis and control methods with mathematical guarantees which find their application in robotics, human-machine systems, telepresence, and infrastructure systems.
Prof. Hirche studied aerospace engineering at TU Berlin and obtained her doctorate at TUM (2005). She did postdoctoral research at the Tokyo Institute of Technology and the University of Tokyo (2005-2007). Since 2008, she has been associate professor of information-oriented control at TUM. She has held that same chair since 2013. Prof. Hirche coordinates the DFG Priority Program "Cyber-Physical Networking" (2016-22). She is a senior member of the IEEE and has been Vice-President of the IEEE Control Systems Society (2015/16).
Awards
Outstanding Student Paper Award, IEEE Control Systems Society (2018)
Best Conference Paper Award Finalist, International Conference on Robotics and Automation ICRA (2017)
Starting Grant "Control based on Human Models", European Research Council (ERC) (2014)
Best Paper Award, at - Automatisierungstechnik (2013)
Best Paper Award, IEEE Worldhaptics conference (2009)
Kimmel M, Hirche S: "Invariance Control for Safe Human-Robot Interaction in Dynamic Environments". IEEE Transactions on Robotics. 2017; 33(6):1327-1342.
Abstract
Hernandez JM, Lorenz T, Hirche S: "Synthesizing anticipatory haptic assistance considering human behavior uncertainty". IEEE Transactions on Robotics. 2015; 31(2): 180 – 190.
Abstract
Molin A, Hirche S: "On the optimality of certainty equivalence for event-triggered control systems". IEEE Transactions on Automatic Control. 2013; 58(2):470–474.
Abstract
Hirche S, Buss M: "Human-oriented control for haptic teleoperation". Proceedings of the IEEE. 2012; 99(1): 1–25.
Abstract
Moertl A, Lawitzky M, Kucukyilmaz A, Sezgin M, Basdogan C, Hirche S: "The role of roles: Physical cooperation between humans and robots". International Journal of Robotics Research. 2012; 31(13):1657–1675.
Abstract