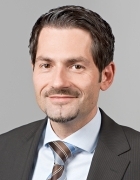 Prof. Dr. Thomas F. Hofmann
Academic Career and Research Areas
Prof. Hofmann (b. 1968) explores the screening, identification and quantification of organoleptic, bioactive and techno functional natural products in foodstuffs and raw materials of vegetable origin. He is also interested in the metabolism and structure-activity relationships of these compounds.

Following his studies in food chemistry at the University of Erlangen-Nuremberg, Prof. Hofmann obtained his doctorate (1995) and completed his postdoctoral studies (1998) in the Chemistry Department of TUM. In 1998, he was appointed Acting Director of the German Food Chemistry Research Institute and elected a member of the Leibniz Society. Prof. Hofmann was appointed as professor and Director of the Food Chemistry Institute at Münster University in 2002. In 2007, he returned to TUM as full professor in the newly established Chair of Food Chemistry and Molecular Sensors. Since 2007, he has been a member of the ZIEL Institute for Food and Healtha nd since 2015 he has been 2015 Co-Director of the Bavarian Biomoleculare Mass Spectrometry Center (BayBioMS). He is Senior Visiting Professor of the Faculty of Science of the Chulalongkorn University in Bangkok, Thailand (2015-18). As Chairman and coordinator of an European consortium, Prof. Hofmann also successfully initated the Knowledge and Innovation Community (KIC) "EIT FOOD" of the European Institute of Technology (EIT) in 2016. From 2009 to 2019 he was Senior Vice President - Research and Innovation, since 2019 ha has been President of TUM.
Awards
Advancement in the Application of Agricultural and Food Chemistry Award, ACS (2014)
ACS Fellow Award of the American Chemical Society (2008)
Firmenich Science Award of the Flavour Industry (2002)
Young Scientist Award of the Agricultural and Food Chemistry Division, American Chemical Society (1999)
Kurt Täufel-Preis des Jungen Wissenschaftlers, GdCH (1999)
Marxen S, Stark TD, Rütschle A, Lücking G, Frenzel E, Scherer S, Ehling-Schulz M, Hofmann T: "Depsipeptide Intermediates Interrogate Proposed Biosynthesis of Cereulide, the Emetic Toxin of Bacillus cereus". Scientific Reports. 2015; 5: 10637-10651.
Abstract
Dunkel A, Steinhaus M, Kotthoff M, Nowak B, Krautwurst D, Schieberle P, Hofmann T: "Nature's chemical signatures in human olfaction: a foodborne perspective for future biotechnology". Angewandte Chemie (International ed. in English). 2014; 53: 7124-7143.
Abstract
Kunert C, Skurk T, Frank O, Lang R, Hauner H, Hofmann T: "Development and application of a stable isotope dilution analysis for the quantitation of advanced glycation end products of creatinine in biofluids of type 2 diabetic patients and healthy volunteers". Anal. Chem. 2013; 85(5): 2961-2969.
Abstract
Hillmann H, Mattes J, Brockhoff B, Dunkel A, Meyerhof W, Hofmann T: "Sensomics analysis of taste compounds in balsamic vinegar and discovery of 5-acetoxymethyl-2-furaldehyde as a novel sweet taste modulator". J. Agric. Food Chem. 2012; 60(40): 9974–9990.
Abstract
Intelmann D, Kummerlöwe G, Haseleu G, Desmer N, Schulze K, Fröhlich R, Frank O, Luy B, Hofmann T: "Structures of storage-induced transformation products of the beer´s bitter principles, revealed by sophisticated NMR spectroscopic and LC-MS techniques". Chem. Eur. J. 2009; 15: 13047-13058.
Abstract