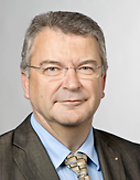 Prof. Dr. Albert B. Gilg
Career
Albert Gilg studied mathematics and computer science at TUM. After completing his first degree with honors in 1981, he received his doctorate in 1984 under the supervision of Professor Dr. Dr.h.c. mult. Roland Bulirsch. His thesis topic focused on adaptive collocation methods of lines with applications in bio-medical models.
In 1985 Dr. Gilg started his career in industry by joining the Corporate Technology Department of Siemens AG in Munich where he initiated and set up a microelectronics CAE engineering suite. Albert Gilg has held senior management positions at Siemens since 1991. During the course of his career Dr. Gilg has been responsible for a wide range of departments conducting research work in the fields of microelectronics, software, systems engineering, production processes and technical risk analysis for a broad range of industrial applications.
Albert Gilg has been a member of several academic evaluation teams, scientific advisory panels and editorial boards. In 1987/88 and 2000/01 he assumed visiting professorship positions at the Mathematics Department of the University of California at San Diego.