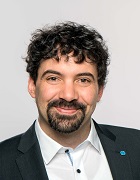 Key Publications
Jonas SM, Siewert S, Spreckelsen C: "Privacy-Preserving Record Grouping and Consent Management Based on a Public-Private Key Signature Scheme: Theoretical Analysis and Feasibility Study". Journal of medical Internet research. 2019; 21 (4): e123000.
Abstract
Kutafine E, Bechtold I, Kabino K, Jonas SM: "Recursive neural networks in hospital bed occupancy forecasting". BMC Medical Informatics and Decision Making. 2019; 19 (1): 39.
Abstract
Burgdorf A, Güthe I, Jovanovic M, Kutafina E, Kohlschein C, Bitsch JA, Jonas SM: "The mobile sleep lab app: An open-source framework for mobile sleep assessment based on consumer-grade wearable devices". Computers in Biology and Medicine. 2018; 103:8-16.
Abstract
Kutafina E, Laukamp D, Bettermann R, Schroeder U, Jonas SM: "Wearable Sensors for eLearning of Manual Tasks: Using Forearm EMG in Hand Hygiene Training". Sensors. 2016; 16 (8): 1221
Abstract
Jonas SM, Deserno TM, Buhimschi CS, Makin J, Choma MA, Buhimschi IA: "Smartphone-based diagnostic for preeclampsia: an mHealth solution for administering the Congo Red Dot (CRD) test in settings with limited resources". Journal of the American Medical Informatics Association: JAMIA. 2016; 23 (1): 166-173
Abstract