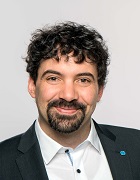 Academic Career and Research Areas
Prof. Jonas (*1983) supports studies in the health context by integrating environmental sensors and mobile, body-related sensor technology (wearables), as well as by data management. The focus is on validation and evaluation of commercially available sensors, as well as data processing in compliance with data protection and privacy laws.
Prof. Jonas studied computer science at RWTH Aachen University (2009). He received his PhD at the RWTH Aachen University Hospital in cooperation with the Yale University School of Medicine (2014). Subsequently, he headed the research department for mobile health (mHealth) at the Institute of Medical Informatics at RWTH Aachen University Hospital. In 2019, Prof. Jonas was appointed to the professorship for Digital Health at TUM.
Key Publications
Jonas SM, Siewert S, Spreckelsen C: "Privacy-Preserving Record Grouping and Consent Management Based on a Public-Private Key Signature Scheme: Theoretical Analysis and Feasibility Study". Journal of medical Internet research. 2019; 21 (4): e123000.
Abstract
Kutafine E, Bechtold I, Kabino K, Jonas SM: "Recursive neural networks in hospital bed occupancy forecasting". BMC Medical Informatics and Decision Making. 2019; 19 (1): 39.
Abstract
Burgdorf A, Güthe I, Jovanovic M, Kutafina E, Kohlschein C, Bitsch JA, Jonas SM: "The mobile sleep lab app: An open-source framework for mobile sleep assessment based on consumer-grade wearable devices". Computers in Biology and Medicine. 2018; 103:8-16.
Abstract
Kutafina E, Laukamp D, Bettermann R, Schroeder U, Jonas SM: "Wearable Sensors for eLearning of Manual Tasks: Using Forearm EMG in Hand Hygiene Training". Sensors. 2016; 16 (8): 1221
Abstract
Jonas SM, Deserno TM, Buhimschi CS, Makin J, Choma MA, Buhimschi IA: "Smartphone-based diagnostic for preeclampsia: an mHealth solution for administering the Congo Red Dot (CRD) test in settings with limited resources". Journal of the American Medical Informatics Association: JAMIA. 2016; 23 (1): 166-173
Abstract