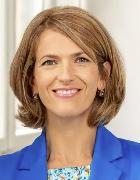 Prof. Dr. Enkelejda Kasneci
Academic Career and Research Areas
Prof. Kasneci (*1981) investigates human-centered technologies, with a special emphasis on the crossroads between multimodal interaction and cutting-edge technological tools, such as VR, AR, and eye-tracking methodologies. Her research incorporates artificial intelligence to foster and facilitate the emergence of innovative learning paradigms. By investigating these interdisciplinary areas, Prof. Kasneci aims to enhance educational experiences and promote a more profound understanding of the intricate interplay between humans and technology.
Enkelejda Kasneci is a Distinguished Professor (Liesel Beckmann Distinguished Professor) of Human-Centered Technologies for Learning and Director of the TUM Center for Educational Technologies. She received her MSc in computer science from the University of Stuttgart and her PhD in computer science from the University of Tübingen in 2013. Afterwards she was a Margarete von Wrangell Fellow (2013-2015), assistant professor of Perception Engineering (2015-2019), and professor of Human-Computer Interaction (2019-2022) at the University of Tübingen.
Awards
TUM Liesel Beckmann Distinguished Professorship (2022)
Junior-Fellow of the German Informatics Society (2016-2021)
Fast Track Program for Outstanding Women in Science, Robert Bosch Foundation (2016)
Südwestmetall-Förderpreis für Nachwuchswissenschaftler (2014)
Margarete von Wrangell Fellowship (2013)
Kasneci, E., Seßler, K., Küchemann, et al. (2023). ChatGPT for good? On opportunities and challenges of large language models for education. Learning and Individual Differences, 103, 102274.
Abstract
Goldberg, P., Sümer, Ö., Stürmer, K., Wagner, W., Göllner, R., Gerjets, P., Kasneci, E & Trautwein, U. (2021). Attentive or not? Toward a machine learning approach to assessing students' visible engagement in classroom instruction. Educational Psychology Review, 33, 27-49.
Abstract
Sümer, Ö., Goldberg, P., D'Mello, S., Gerjets, P., Trautwein, U., & Kasneci, E. (2021). Multimodal engagement analysis from facial videos in the classroom. IEEE Transactions on Affective Computing.
Abstract
Gao, H., Bozkir, E., Hasenbein, L., Hahn, J. U., Göllner, R., & Kasneci, E. (2021). Digital transformations of classrooms in virtual reality. In Proceedings of the 2021 CHI Conference on Human Factors in Computing Systems.
Abstract
Bozkir, E., Günlü, O., Fuhl, W., Schaefer, R. F., & Kasneci, E. (2021). Differential privacy for eye tracking with temporal correlations. Plos one, 16(8), e0255979.
Abstract