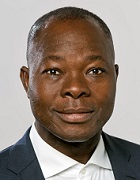 Academic Career and Research Areas
Prof. Kéré (*1965) is a representative of socially responsible architecture and known for his focus on participation, material and sustainability.
After studying architecture at the Technical University of Berlin, he founded the office Kéré Architecture in 2005. In 2013 he was appointed to the Accademia di Architettura di Mendrisio, Switzerland. Previously, he taught at the University of Wisconsin, Milwaukee, USA. Since 2011 he has also been a visiting professor at the Harvard Graduate School of Design. Through his "Kéré Foundation," Kéré is committed to the implementation of sustainable architecture in Burkina Faso. On October 1, 2017 Kéré was appointed to the newly created professorship for "Architectural Design and Participation" at the TUM Department of Architecture. In addition, he serves as an expert in the Simple Building ("Einfach Bauen") research group.
Awards
Arnold W. Brunner Prize (2017)
Global Holcim Award – Gold (2012)
BSI Swiss Architectural Award (2010)
Global Award for Sustainable Architecture (2009)
Aga Khan Award for Architecture (2004)
Serpentine Galleries: Francis Kéré: Serpentine Pavilion 2017. London: Serpentine Galleries and Koenig Books, 2017.
Abstract
Lepik A, Beygo, A: Francis Kéré: Radically Simple. Berlin: Hatje Cantz, 2016.
Abstract