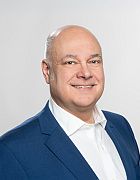 Apl. Prof. Dr. Arnd Kieser
Academic Career and Research Areas
Prof. Kieser's (*1965) field of research is the area of experimental oncology, tumor virology and signal transduction. His scientific work focuses on the molecular mechanisms of oncogenic cell transformation and lymphoma development by the human Epstein-Barr virus. In a translational approach Prof. Kieser aims at the development of novel small molecule drugs, which block the interaction of the virus with the signaling network of its target cell. The drug development project is funded by the German Center for Infection Research (DZIF).
Prof. Kieser studied Biology at the Albert-Ludwigs-University Freiburg. After his Ph.D. studies at the Helmholtz Center Munich (HMGU) and the National Cancer Institute in Bethesda, Prof. Kieser received his Ph.D. from the Ludwig-Maximilians-University Munich. After positions as postdoctoral researcher and junior group leader at the HMGU, Prof. Kieser is heading a research group at the HMGU since 2001. Prof. Kieser habilitated in 2008 at the TUM and was promoted to extraordinary Professor for Genetics at the TUM School of Life Sciences in 2014.
Awards
Research Highlight of the Helmholtz Association of German Research Centers (2007)
Research award of the Research Festival Grosshadern, Munich (1998)
Ph.D. award in Biology of the HMGU (1996)
Key Publications
Voigt S, Sterz KR, Giehler F, Mohr AW, Wilson JB, Moosmann A, Kieser A: "A central role of IKK2 and TPL2 in JNK activation and viral B-cell transformation". Nat Commun. 2020; 11(1): 685.
Abstract
Kieser A, Sterz KR: "The Latent Membrane Protein 1 (LMP1)". Curr Top Microbiol Immunol. 2015; 391: 119-49.
Abstract
Shkoda A, Town JA, Griese J, Romio M, Sarioglu H, Knöfel T, Giehler F, Kieser A: "The germinal center kinase TNIK is required for canonical NF-κB and JNK signaling in B-cells by the EBV oncoprotein LMP1 and the CD40 receptor". PLoS Biol. 2012; 10(8): e1001376.
Abstract
Schultheiss U, Püschner S, Kremmer E, Mak TW, Engelmann H, Hammerschmidt W, Kieser A: "TRAF6 is a critical mediator of signal transduction by the viral oncogene latent membrane protein 1". EMBO J. 2001; 20(20): 5678-91.
Abstract
Kieser A, Kilger E, Gires O, Ueffing M, Kolch W, Hammerschmidt W: "Epstein-Barr virus latent membrane protein-1 triggers AP-1 activity via the c-Jun N-terminal kinase cascade". EMBO J. 1997; 16(21): 6478-85.
Abstract